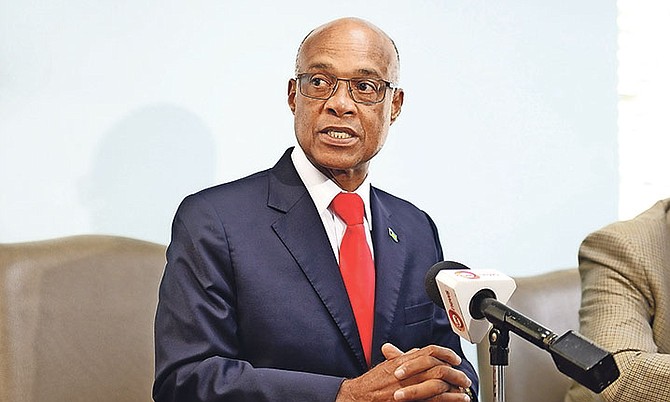 By MORGAN ADDERLEY
EDUCATION Minister Jeff Lloyd said the government is not happy about the slow response for repayment from those persons who have defaulted on student loans.
He reiterated yesterday the government's intent to take defaulters to court, even though officials would rather not do so.
Yesterday after a press conference held at the Ministry of Education, Mr Lloyd was asked for an update on defaulted payments of student loans from the Education Loan Authority (ELA). 
Mr Lloyd replied: "You know this is a process that is ongoing and the reason that it is ongoing is because we have given people an opportunity to come in and settle their arrears. They are doing that.
"We would really not want to take people to court, because we understand some of the circumstances, but those who insist that they are not going to respond to our overtures, then yes we will take them to court.
"I am happy that there is a response [but] we are not happy with the pace of the response or the amount of the response."
The South Beach MP was also asked if there has been an increase in persons making payments or agreements to settle their debts. Mr Lloyd said: "Yes, I wouldn't say there's necessarily an increase, but there's been a steady response to our invitations for people to come and settle their arrears."
In June, during the 2017-2018 budget debate, Mr Lloyd warned those owing the ELA to pay up or face "grief".
The loan programme was established in 2000 to assist people pursuing tertiary education, either locally or abroad.
However, it was suspended in August 2009 due to its high delinquency rate. In July, Mr Lloyd indicated to The Tribune his ministry had commenced the dissemination of written requests to the more that 4,600 former loan recipients, requesting some form of repayment.
In October, ELA Chairman Michael Foulkes disclosed that the ELA had commenced legal action in the Supreme Court against delinquent borrowers and guarantors to recover the more than $150m it is owed.
According to the Golden Gates MP, requests to have loan holders come in and amicably agree to settlements and payment options have only resulted in 25 per cent of persons with delinquent accounts either paying their loans in full or becoming current on their loans.
Mr Foulkes said this leaves a "whopping and unacceptable" 75 per cent of loan holders who have not paid or made attempts to pay. 
This also means the ELA has had to turn away new applicants due to a lack of financial resources. 
Mr Foulkes urged all persons not paying their loans, and their guarantors or co-applicants, to contact the authority at 323-6322 or visit the ELA's office at 97 Collins Avenue, so that an arrangement can be made. 
Yesterday Mr Lloyd was also asked about speculation that he is remodeling his office despite cutbacks in the public service.
"No, there is no rumour," Mr Lloyd answered. "That is a fact. I have remodeled my office. So there's [no rumour] about it, I have rearranged my office. I have taken up the dirty carpet that was here and I have changed it and put in plants, and [made] my office the place that I want to be since I spend so many hours a day here. There's no rumour that's a fact."