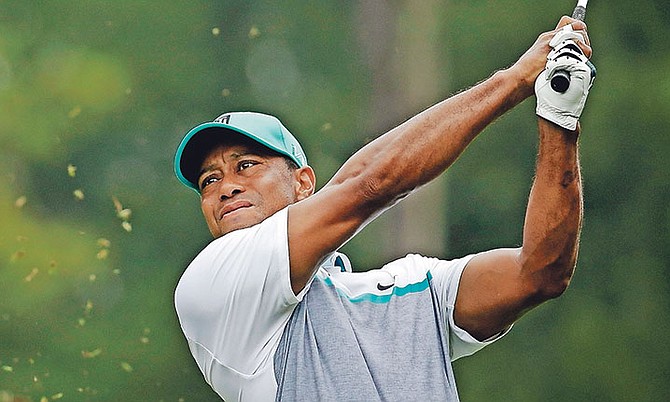 By RENALDO DORSETT
Tribune Sports Reporter
rdorsett@tribunemedia.net
The third edition of the Hero World Challenge is set to tee off at the Albany resort in just a few days, once again featuring some of the top ranked golfers on the PGA Tour competing in the Bahamas.
Pawan Munjal, chairman, managing director and CEO of Hero Motocorp, officially opened the week-long list of activities surrounding the event alongside host, Tiger Woods.
"Always a pleasure to be out here in these pristine conditions out there. I had a chance to play a little bit of golf yesterday, loved it. I wish I had played with [with Tiger] yesterday and I would be in a better position to tell you all how he's playing," Munjal said.
"Hero is very happy to be associated with the Tiger Woods Foundation. Now it's been four years. It sounds like such a long time. Since the time we came to the Bahamas, we've all had a great time here. It's great to have Tiger make his comeback once again at the Hero World Challenge. When I talk about having Tiger back at the event, when I look at the field, it's a tremendous field. Only 18 pros play, but what a great mix of international pros.
"The top-8 of the top-10 of the PGA Tour, and then we have five Europeans, we have a Japanese. Makes a great television show. Great for Hero, great for the event, great for golf."
The invitation-only event will feature an elite field of top-ranked golfers competing for a $3.5 million prize purse.
The Hero World Challenge allows Woods - the 41-year-old golf icon who has been hampered by a fluctuating injury status - an opportunity to return at his own event among a select field.
"I'm just looking forward to getting through these four rounds and having an understanding, a better understanding of where I'm at. I don't know where I'm at. What I mean by that is I don't know how hard I can hit it, what shots can I play. It's supposed to blow this weekend and if it blows 30 miles an hour, I'm going to have to hit some shots. I'm going to have to lean on a few and take something off of it, hit some shots, some creative ones. I may have to blast a few. I don't know yet. I don't know what the future entails in that regard because I'm still learning this body."
Woods had his fourth back surgery earlier this year and will return to the course after going through a rigorous rehabilitation programme.
"I was telling a lot of my friends at home that I miss playing golf for fun. Go out there and hit and giggle and play for some denominations and have a good time. I hadn't done that in two years. I play nine holes here and 18 holes here, and then I have to take three days off because my back was killing me. I hadn't been able to play fun golf like that with my friends in such a long time, forget being competitive.
But this surgery was, it was about quality of life because I didn't really have much. I've been in bed for about two years and hadn't been able to do much
In 2016, he finished 15th out of 17 entrants at -4, highlighted by a second round 65.
"This is very different because I didn't -- last year I was still struggling with a little bit of pain and I didn't know -- I was able to hit some good shots, able to play, but in looking back on it now, I look on it as playing in slow mo but it was as hard as I could hit it. I didn't realize how bad my back had become and how much I was flinching and just how slow I was. I didn't realize it because it's been a slow degrading process. I thought I had some speed, thought I was playing halfway decent, shot some good scores, but now I've looked back on it and man, I didn't even have much at all," Woods said, "Now to come out here and be able to do what I've been doing the last few weeks with the guys, it's been a lot of fun. I played some great rounds with the guys at home. They've been fantastic, to be honest with you, because I've gotten to know a lot of them through the Ryder Cup and Presidents Cups and I've really become very close with a few of them. I played golf with Rory. I played golf with Berger, JT, Rickie, Dustin, and it was fun. It was fun to be able to do that again, which I hadn't done in years."
Dustin Johnson, who has held the No. 1 position in the Official World Golf Ranking since winning the Genesis Open in February, headlines a field that also includes three of 2017's major championship winners.
They are US Open winner Brooks Koepka, The Open Championship winner Jordan Spieth and PGA Championship winner Justin Thomas, who also won the PGA TOUR's 2017 FedExCup title following the conclusion of the TOUR Championship on September 24.
World No. 3 Hideki Matsuyama will aim to defend his title against a field that features 16 of the top 24 players in the world.
The Tiger Woods Foundation is the event's primary charitable beneficiary, along with the Tavistock Foundation and Bahamas Youth Foundation.
"We started this event back in '99, and to be able to have as much success as we've had all these years from -- it's a who's who on the win list. Guys who have won major championships, Hall of Famer, FedExCup champions. We've had them all, and it's been incredible the support we've gotten from the players over the years. They've come here for the first time, they start realizing what we're trying to do for kids," Woods said, "Our STEM programs and what we've been able to accomplish so far, it's been pretty remarkable. My staff has been incredible. Bill put together these TGR Live events like this. They work countless hours, tireless to try and make this thing as seamless as possible and as great as it has been over the years. And I think that looking back on it, my dad and I had this idea of having this event and I just think that over these years that I think my dad would have been very proud of what we've been able to accomplish."
Woods and the remainder of the field will play in today's Pro-Am before the event officially begins on Thursday and runs through December 3.
Live television coverage of the Hero World Challenge will be provided by Golf Channel during all four rounds and by NBC during the third and fourth rounds. Good-any-day grounds tickets and a limited number of premium hospitality packages for the Hero World Challenge are available for purchase at HeroWorldChallenge.com .
More like this story