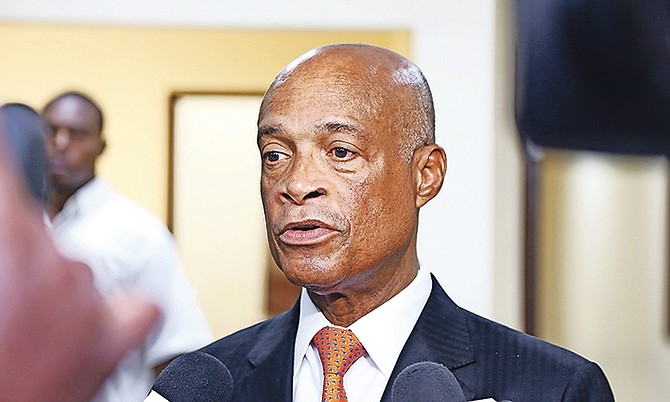 EDUCATION Minister Jeffery Lloyd has criticised those opposing the government's decision to accommodate Dominican students and others following the destruction Hurricane Maria brought to their country, challenging naysayers to re-evaluate their Christian values and decide "for ourselves if we want to live it or we want to just talk it."
Speaking on the sidelines of a dedication service for the re-opening of the Stephen Dillet Primary School, Mr Lloyd said he understood that as few as 20 students may opt to come to the Bahamas, with preliminary indications pointing to all of them enrolling in the private school system.
Mr Lloyd said government officials were still working to determine the extent of the country's assistance to Dominica.
The South Beach MP was asked to respond to the scathing commentary by Pineridge MP Rev Frederick McAlpine in Parliament last week.
Rev McAlpine, a Free National Movement backbencher, recommended that wealthy Cabinet ministers take money from their own pockets to contribute to the Dominica's restoration efforts, rather than give its citizens safe haven in the Bahamas.
He also recommended the government pay Bahamians to work in Dominica and help with restoration instead of allowing storm victims to have safe haven here, as he suggested they may never leave once they get used to a better standard of living.
And in what appeared to be a swipe at Prime Minister Dr Hubert Minnis, who wiped tears from his eyes earlier in the day as he spoke of the destruction in Dominica and the harsh reactions some have had to his plans to help citizens there, Rev McAlpine said he was crying for his own people.
Mr Lloyd, who yesterday hadn't heard or read the comments first hand due to his recent trip to Washington for the Inter-American Committee on Education, said he had to accept the remarks through the prism of freedom of speech and democracy.
However, Mr Lloyd said as a man who took his Christian beliefs and responsibilities "seriously," he could not subscribe to any viewpoint that set aside compassion, generosity and willingness to extend oneself as prescribed by Christianity.
"This is what [Christians] are called to do," the South Beach MP told reporters. "Jesus spoke of: 'I have come to serve, not to be served.'"
Mr Lloyd, clearly irritated by the nature of public discourse since the government's initial decision, questioned how the Bahamas could call itself a Christian nation, if its people are hesitant to help those in need.
"I subscribe to that which is enshrined in our Constitution, that we are country undergirded by spiritual and Christian values. And I take my Christian commitment seriously.
"I don't talk this, I live this and one of the principal expressions of Christianity is compassion and generosity and a willingness to extend yourself even beyond your own needs, to assist a needed brother and/or sister," Mr Lloyd said.
He continued: "So we have got to take a look at ourselves in the mirror as a Christian country, supposedly, and ask ourselves if we understand what that ethic really means. And then we can determine for ourselves if we want to live it or we want to just talk it. And it is easy, of course, which of those we can do."
"But I am a serious Christian and I mean that. I live that in every fibre of my being. I don't have time to talk it."
Of the Minnis administration's decision, Mr Lloyd said: "The government would have done what any Christian, compassionate, sensitive people would have done; people who would have done for us in our time of need when our own country was afflicted by the passage of natural disasters."
He said the Bahamas, following many natural disasters, has been the recipient of donations from many countries throughout the Caribbean; specifically a $100,000 donation in aid from Dominica post Hurricane Matthew last year.
Mr Lloyd also said countries in more dire straits than the Bahamas have offered up greater aid.
Referring to the two-island nation of Antigua and Barbuda's decision to accept roughly 1,000 Dominicans despite the destruction Barbuda sustained during the passage of Hurricane Irma last month, Mr Lloyd called that country's efforts "magnanimous" and a stellar example for the rest of the Caribbean.
Mr Lloyd added: "Here is a country, a twin country, that itself has suffered from the most damaging effects of Hurricane Irma, where Barbuda is virtually wiped off of the map and yet, this Antigua and Barbuda country is receiving over 1,000 Dominicans.
"They themselves reeling from this serious damage. But yet they are there offering, in this time of desperation for themselves, offering this extension of generosity."
"How magnanimous. . .. How we in the Bahamas, as blessed as we are, cannot do the same?"
Prime Minister Dr Minnis led a team to Dominica yesterday to assess damage there.