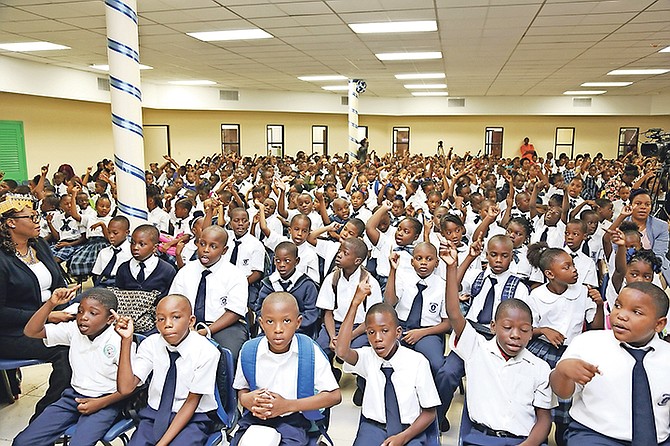 By RICARDO WELLS
Tribune Staff Reporter
rwells@tribunemedia.net
STUDENTS and faculty of the Stephen Dillet Primary School were finally permitted to return to their Windsor Road campus yesterday following a lengthy and difficult renovations exercise.
Education Minister Jeffery Lloyd, who led members of the press and educators on a tour of the school Monday, said despite the many setbacks and issues experienced during the school's renovation, "the wait was well worth it."
Mr Lloyd noted that under ordinary circumstances, a renovation the size undertaken at Stephen Dillet Primary would take a full year.
He said under extraordinary circumstances, a well-trained construction crew, "working all week, most of the day," would take a minimum of six to seven months to finish the job.
To the delight of many in attendance, the South Beach MP said: "In three months this is what we have: 30 new general classrooms, two preschool classrooms, a computer lab, a library, an art-room, a music room, a multi-purpose room, a sick bay, a staff lounge, student eating area, tuck shop, lunch pavilion, counsellors office, senior personnel office, vice principal's office, principal's office, PE office, janitorial office, receptionist and security office, students restrooms and dedicated restrooms for the teachers and administrator - say praise the Lord!"
The government spent approximately $4m on repairs at the school. It was originally scheduled to open to teachers on September 4, and to students one week later on September 11.
Once it was determined that construction crews would not meet this deadline, education officials set up several satellite classrooms around New Providence. This decision led to a point of contention between parents and administrators.
Of the issue Mr Lloyd stated: "Let's be honest, parents, let's be honest because you all have written me on Facebook and threatened me; we had our hiccups. If you are undertaking a task of this nature, you are going to have a little set back. Okay, and, of course, we did."
He added: "Yes, we were supposed to have started this exercise September 11. Eventually we had to have a meeting over at (D W) Davis and then we had to use a couple of satellite classrooms. Amen, but look at today. To God in all things be the glory. I believe, you must confess that the wait was well worth it."
In separate interviews with The Tribune, school officials and representatives of the construction company hired to renovate the school confirmed that the full scope of construction was completed as of Monday, however they admitted that several cosmetic details still had to be done.
A tour of the school showed no major issues, with construction crews still having to install a handful of switch panels and properly install classroom and office furniture.
Meanwhile, Education Director Lionel Sands announced Monday that the Department of Education will supply the students at the school with all text books needed for the 2017-2018 academic year.