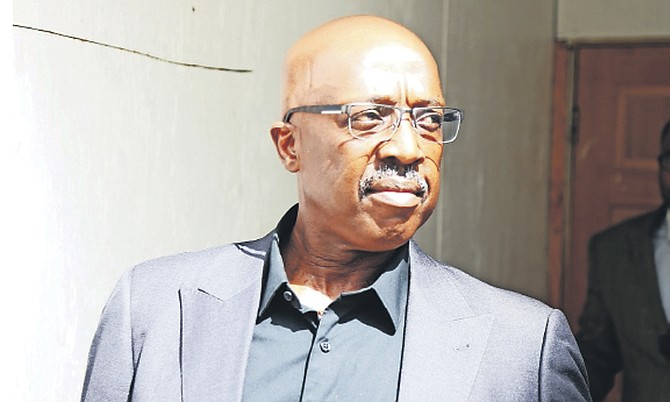 By NICO SCAVELLA
Tribune Staff Reporter
nscavella@tribunemedia.net
THE number of bribery and extortion related charges against former Labour and National Insurance Minister Shane Gibson has decreased to 31, though the amount he is alleged to have solicited from Jonathan Ash remains the same, according to Crown prosecutors.
Prosecutor Terry Archer, in presenting the Crown's voluntary bill of indictment (VBI) against the former PLP Cabinet minister, said Gibson now faces the following charges in total: 15 counts of bribery and extortion each and one count of misconduct in public office. He formerly faced 39 charges. 
It is alleged Gibson, between January 2 and April 30, 2017, concerned with another, extorted $250,000 from Mr Ash. As it relates to the bribery charges, it is alleged Gibson solicited more than $250,000 from Mr Ash between February 2 and March 30, 2017.
As Gibson stood before Acting Deputy Chief Magistrate Subusola Swain yesterday morning, one of his attorneys, Wayne Munroe, QC, informed the magistrate of his client's difficulty in filing a notice of alibi.
Mr Munroe submitted the Crown's allegations that the criminal acts occurred between January 2 and April 30, or a total of 118 days, were not specific to day and time. As such, he said it would be impossible to give a notice of alibi.
Magistrate Swain fast-tracked the matter to the Supreme Court, with Gibson now required to appear before Justice Bernard Turner for his formal arraignment on October 20 at 10am. Failure to appear would result in the issuance of an arrest warrant.
Mr Munroe subsequently noted the adjourned date falls within the 21-day deadline for Gibson to file a notice of alibi, and as such said he would raise the matter before Justice Turner at that time.
At his initial arraignment, which drew national attention, Gibson had to be assisted up the steps of the Nassau Street and South Street court complex by officers after injuring his leg in a boating accident prior to the arraignment. He was later seen using crutches while at the Supreme Court for his bail hearing, which occurred about an hour after his arraignment. 
In yesterday's proceedings, however, he appeared to have recovered from the injury, as he was seen walking freely without the aid of crutches as he left the Magistrate's Court complex with a number of family and friends in tow.
Gibson remains on $40,000 bail.