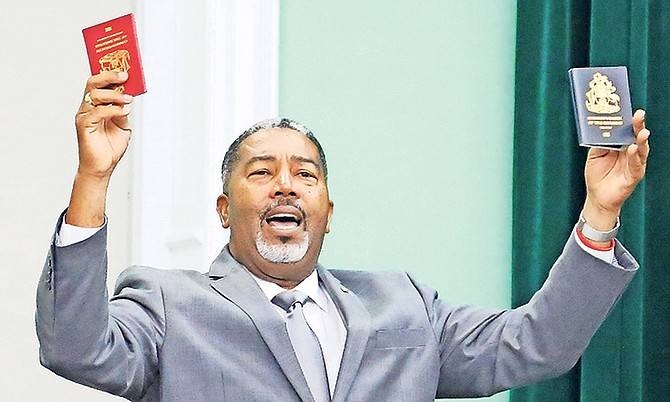 By RASHAD ROLLE
Tribune Staff Reporter
rrolle@tribunemedia.net
BUOYED by the encouraging cheers of his colleagues, Transport and Local Government Minister Frankie Campbell shot down speculation in the House of Assembly yesterday that he has dual citizenship, declaring he has never pledged allegiance to any country but the Bahamas, nor has he ever had a travel document in the name of any other country.
He also gave authorisation for any foreign embassy in the Bahamas to supply anyone requesting evidence that he ever held citizenship of another country.
Mr Campbell expressed pride in his heritage, one that includes being born in the Bahamas to a Haitian mother but living here throughout his life, experiencing the country's transition into independence.
Speculation grew on social media about his citizenship after he made comments about having two passports in a short clip of an interview he gave on the Darold Miller Live show earlier this year.
Mr Campbell, who was out of the country, did not directly address questions about the matter when this newspaper contacted him Sunday, but Prime Minister Dr Hubert Minnis told The Tribune the Southern Shores MP was referring to his Bahamian passport and his diplomatic passport when he referenced to the documents.
Citizen
According to the Constitution, a person is not qualified to be elected to the House of Assembly if they are a citizen of another country, having become that citizen voluntarily or if, "by virtue of his own act, under any acknowledgement of allegiance, obedience or adherence to a foreign power or state."
"At no time in my 50 years of existence did I, Frankie Campbell, ever pledge allegiance to any other country than the Bahamas, save and except for what we did here in the Bahamas between 1967 when I would've been involved and 1973 when we raised the flag," Mr Campbell said yesterday. "I publicly give permission and authorisation to any of our foreign embassies here in the Bahamas to supply whoever requests any evidence or proof that I ever held any other travel document or citizenship other than that of my beloved Bahamas."
Mr Campbell said he learned of the controversy when he was in the US over the weekend with a government delegation on an Inter-American Development Bank (IDB) trip.
"While there to my surprise I received information that I had fled the country, I had gone down south, all emanating from comments that I would've made from May of this year shortly after the general election on the Darold Miller show," he said. "I find it amazing that in my 50 years of existence I've never had to defend my attachment to my heritage. Science has advanced to the extent where parents are able to choose the colour of the eyes of their children, choose the sex of their children and other physical attributes but to my knowledge there has been no science that helps to decide for a child who his or her parents will be and to that extent I give thanks to Almighty God for who my parents are."
Controversy erupted in 2010 over former Elizabeth MP Ryan Pinder's dual citizenship in a by-election in Elizabeth. Mr Pinder, who later renounced his American citizenship, had acquired US citizenship automatically at birth because his mother was American.
As he grew up with a Haitian mother, Mr Campbell experienced several indignities, he said.

"There are many who may relate to having suffered certain indignations as a young person, the term 'Haitian boy' was commonplace for me. I grew up accepting who I am without making any excuses and even at this point in my life when I tell those stories, it's not in search of sympathy, but I tell those stories with the hope that maybe one person who may now find themselves in the position I would've been then would realize it's not where you begin but where you end up."
He added yesterday: "With God's help I had the opportunity to travel in and out of the country from a teenager. I joined the police force, I served my country and there was never any question as to my loyalty to my Bahamaland. Unlike many of my cousins, I had the good fortune of being born here in 1967. When that flag was raised on midnight July 10, 1973 I would've been six years and nine days old; I would've had the opportunity of being on the fort when the Queen and the Prince visited and drove on the back of a Jeep. While I am not at all in any way, form, or fashion ashamed or embarrassed of my Haitian heritage, I want to say…Frankie Alfred Campbell is as Bahamians as conch salad.
"Yes, I said I have two passports. Yes, I do. With God's grace, having been appointed to the Bahamas embassy in Port au Prince, Haiti, of September 2010, on the 26th I was issued a diplomatic passport number…That made me proud in many ways, proud as an individual, proud realising where I came from, but also proud to brag about my country having the generosity to provide equal opportunity for all.
Passport
"That passport had a 10-year lifespan; upon my being recalled from Haiti, no one asked for the passport. It was still valid. I kept the passport. I didn't use or abuse it. I kept it as a source of pride and accomplishment. God being the good God that he is, upon my appointment on the 15th of May as minister of transport and local government, the Passport Office again issued me a diplomatic passport. Yes, I have two passports."