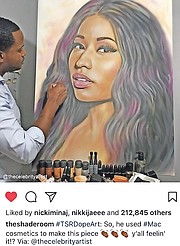 Celebrity artist and The Tribune's cartoonist Jamaal Rolle (pictured) has an army of fans and how he can add Nicki Minaj to their ranks.
Jamaal recently painted Minaj's portrait using Mac make-up and after seeing it on his Instagram page the star was straight on the page to applaud his work.
"Wow! Talent to the tenth power," was Minaj's comment.
Jamaal explained: "Since Nicki Minaj and Mac currently collaborate, I rendered a portrait of her using Mac foundations, eye shadows, liners and lip sticks.
"Mac offers a wide range of foundations and makeup that gives me more hues than my traditional pastels. This new way of creating portraits is just crazy and fantastic at the same time, and I am having a lot of fun with it!"
After he posted the image it was quickly shared on many large online publications earning more than a million views in just a few days. To view more portraits from The Celebrity Artist, follow him on Instagram: @thecelebrityartist.