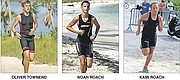 IN April, Caribbean triathlon federations, including Bahamas Triathlon Association (BTA), met in Miami with the intention of implementing the first ever CARIFTA Triathlon and Aquathon Championships.
After voting, it was unanimously decided that Barbados would be the host nation for the 2017 games.
Now, the event is set to take place this weekend at the Barbados Aquatic Center and Gymnasium Complex where 29 countries are invited to participate in the event, with an expectation of 50 to 70 competitors in age groups ranging from 11-12, 13-15 and 16-19.
The CARIFTA Championships will include triathlon, aquathon and mixed-relay formats, with distances varying based on age groups.
By having this event, the best youth and junior triathletes in the region will have the opportunity to showcase their talent and compete against each other.
"Significant for development of the sport in the region and critical to the development of young triathletes who aspire to represent their country and compete at a high level," said Darren Treasure, president of the Barbados Federation of Island Triathletes.
The BTA has named the team that will be participating in the First Carifta Championships. They comprise of the following:
Kami Roach will compete in the 11-12 girls' triathlon and mixed relay.
Roach just won the Potcakeman Puppy Tri.
Noah Roach will compete in the 11-12 boys' aquathlon, triathlon and mixed relay. Roach, too, just won the Potcakeman Puppy Tri.

Oliver Townend will compete in the 13-15 boys' aquathlon, triathlon and mixed relay. Townend came second in the juniors at Potcakeman (even after running an extra 2km on the course).

Benjamin Derbyshire will compete in 16-19 boys' aquathlon, triathlon and mixed relay. Derbyshire won the under-19 sprint triathlon at the Potcakeman. The team is managed by Lori Roach and coached by Dorian Roach.
Team Bahamas is sponsored by The Sports Centre, Powerade, KPMG, Goldenwings Charter, The Holowesko Group, Bahamas Wholesale Agencies, The Bowers Family and a number of other private citizens.