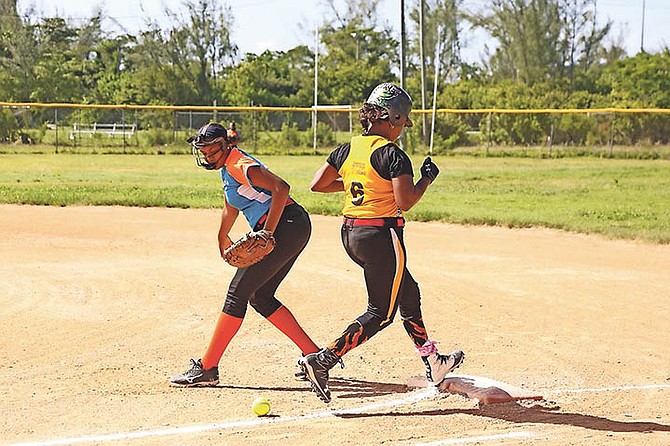 By BRENT STUBBS
Senior Sports Reporter
bstubbs@tribunemedia.net
The Johnson's Lady Truckers survived a scare, pulling off a marathon 19-11 slug-fest over the Lady Hitters to move into the driver's seat in their New Providence Softball Association ladies' best-of-five semi-final playoff series.
The Lady Truckers, an easy 14-2 winner in game one of the series last week, needed three hours yesterday in the Banker's Field at the Baillou Hills Sporting Complex to take a commanding 2-0 lead.
The winner of the series will go on to play the Sunshine Auto Wildcats, who made it look so easy in game three of their series against the Platinum Lady Pool Sharks with an 11-0 victory and a 3-0 sweep to clinch their berth into the final.
Also yesterday, the BTC Elite Warriors didn't waste any time with the Chances Mighty Mitts, stopping them 15-0 in three innings. The defending champions C&S Hitmen played the Commando Security Truckers in the late game.
The NPSA will continue its playoff action with another double header tonight and hope to get its best-of-seven championship series, named in honour of immediate past president Godfrey 'Gully' Burnside, started on the weekend.
Lady Truckers 19, Lady Hitters 11: It was a close game until the fourth inning when the defending champions rolled past their opponents, who had taken an 11-8 lead.
Johnson's put on the gas as they erupted for five runs in the fifth, one in the sixth and four more in the seventh as they held the Lady Hitters scoreless to breeze through the latter half of the seemingly endless game.
"The first part of the game we were flat and I noticed that the pitcher wasn't on her game," said Lady Truckers' manager Mario Ford. "We made some defensive mistakes, but luckily we were able to come back.
"They hit the ball very well tonight. I have give them credit. But I just think we need to put our defence together. I'm not concerned about the offence because I know we can hit the ball. Once we do that, we will do the things we need to do to win ball games."
In ripping out 15 hits off two Lady Hitters' pitchers, shortstop Melinda Bastian led the Lady Truckers by going a perfect 5-for-5 with six runs batted in (RBI) and scored four times.
Centre fielder Tyrese Curry was 2-for-5 with five runs scored, second sacker Shaquell Bain was 3-for-4 with two RBI and four runs scored, catcher Shevette Taylor, intentionally walked twice, was 1-for-3 with a RBI and three runs scored, third sacker Ruthann Simms was also 1-for-3 with a RBI and three runs scored, pitcher Marvel Miller was also 1-for-3 with a RBI and left fielder Keisha Pratt was 1-for-5 with two RBI.
Miller went the distance for the win, while Thela Johnson switched from shortstop as she came in for starter Amaraige Taylor in the first inning to suffer the loss.
Lady Truckers led the Lady Hitters' attack by going 3-for-5 with three RBI and two runs scored, centre fielder Nadia Thompson was also 3-for-5 with two runs scored; first sacker Lashonda Greenslade was 2-for-4 with two RBI and a run scored; third sacker Rhyessa Stuart was 2-for-4 with a RBI and a run scored; Taylor was 1-for-5 with three RBI and a run scored and left fielder Vandette Smith was 1-for-5 with two runs scored.
Lady Wildcats 11, Lady Sharks 0: The more experienced Sunshine Auto proved to a little too much for the youthful Platinum Pool to handle and it showed in the final scored.
Sunshine Auto, winners of the first two games 8-4 and 7-5 respectively last week, made this one look so easy as they advanced to the final as center fielder Lashonda Bethel went 2-for-4, scoring twice and second sacker Rebecca Moss was 3-for-4 with a RBI and a run scored.
Mary 'Cruise' Sweeting was stingy on the mound, giving up just one hit with four strike outs. Catcher Sophia Cartwright got the only hit with two out in the fourth for the Lady Sharks, who saw Brendia Ferguson give up 10 hits with three strike outs in the loss.
"Some how that team broke down and it worked to our advantage," said Sunshine Auto's manager Anthony Bullard. "This is the best that I've seen our girls together. Now we have to get over the next hump."
The Lady Wildcats celebrated with a dinner on the outside of the stadium as they watched the Lady Truckers and the Lady Hitters slug it out. Bullard said once they can improve on their hitting, they will be able to take on whoever come.
"We're hungry for another championship. We've been too close. We got to get it now," said Bullard, of the Lady Wildcats, who have not tasted the thrill of victory since four years ago.
Warriors 15, Mighty Mitts 0: Thomas Davis spun a one-hitter with six strike outs to help propel BTC Elite to the shutout as they avenged their disappointing forfeiture loss in their last game.
After winning game one, BTC suffered a forfeiture after it was ruled that they used an illegal player in Richard Bain, whom the league indicated had not completed a five-gamed suspension that he was serving.
Last night, they took their frustration out on the Mighty Mitts as they batted around the clock, scoring ten runs in the first inning and they continued to apply the pressure in the abbreviated game.
First baseman Sherman Ferguson went 2-for-2 with four RBI and three runs; shortstop Austin Hanna was 2-for-3 with two runs scored; catcher Jordan Gibson was 2-for-3 with two RBI and two runs scored; Thomas helped out his own cause going 1-for-1 with a RBI and two runs scored and left fielder Carlos Pratt was also 1-for-1 with a RBI and two runs scored.
Center fielder Moses Kerr got the only hit for the Mighty Mitts with a two-out single in the first.
Kayle Carey gave up 12 hits for the loss.
The Warriors took over from the Wildcats as they staged a grill out on the same spot as they watched the Hitmen took on the Truckers.