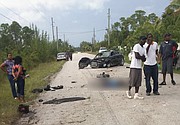 Police in Abaco are investigating a traffic accident which has left a 31-year-old man dead.
Reports are that around 5pm on Friday a man was driving in his Buick Regal vehicle on S.C. Bootle Highway near Treasure Cay when he lost control and crashed into a rock mound on the side of the road.
During the crash the man was thrown some 60 feet from his vehicle and landed on the Highway.
The man was pronounced dead at the scene.
Police investigations are ongoing.