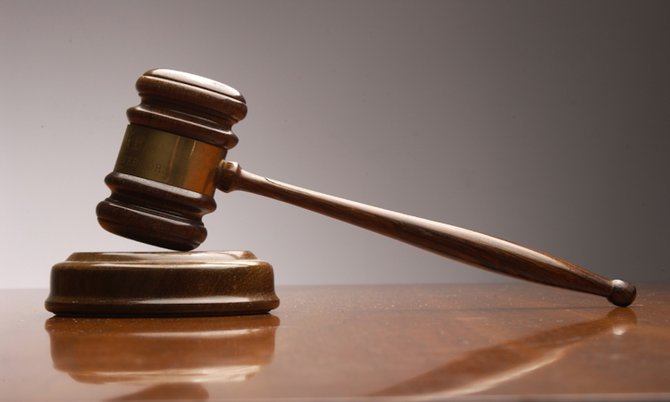 By NICO SCAVELLA
Tribune Staff Reporter
nscavella@tribunemedia.net
THE man accused of setting fire to a dormitory at the Bahamas Agriculture and Marine Sciences Institute (BAMSI) in 2015 offered to pay a security guard at the site nearly $1,000 to keep silent about the crime, Supreme Court jurors heard yesterday.
Anonymous Crown witness "Alpha", testifying via video link before Justice Bernard Turner, claimed Dave Dion Moxey, of Fresh Creek, Andros, tried to bribe him with $800 in exchange for his silence about his alleged plans of arson on January 15, 2015.
And this, Alpha claimed, was shortly after Moxey approached him with a cutlass in a threatening manner nearby his trailer home, which he said was approximately 15 feet away from the male dormitory. Alpha said Moxey then made him walk in front of him all the way to the dorm's roof, where he claimed Moxey used two rags and two pieces of felt to start the fire in two separate areas.
After the fire was lit, Alpha said Moxey disappeared and he never saw or heard from him again. Alpha said he later reported the incident to police on the island.
Alpha said he never did accept the alleged "hush money" from Moxey, and further claimed that he told Moxey – when initially approached by the Fresh Creek native – that he should not burn down the building because their pay hinged on the dorm's completion.
According to Alpha, he worked as a labourer during the day and a security guard in the evening time.
However, Calvin Seymour, Moxey's attorney, during a cross-examination that accounted for the majority of yesterday's proceedings, questioned the consistency of Alpha's testimony with that of an official statement he gave police on January 16, 2015.
The particulars of that statement, which was read aloud by Mr Seymour for the court and Alpha to hear, suggested Alpha was not forced on to the roof of the dormitory at cutlass-point by Moxey as he had previously claimed, and that he was not actually present when Moxey allegedly started the blaze.
At one point, Alpha refused to answer Mr Seymour's queries over which officers were present when he (Alpha) gave his initial statements to police.
As a result, Mr Seymour suggested to Alpha he was "confused" about the events that allegedly transpired on January 15, 2015, and that if Alpha wasn't confused about those sequence of events, then he was deliberately lying on his client. And in turn, Alpha continuously asserted that Mr Seymour was trying to "make me lie" via his interrogation.
"You could say what you want...you been trying to make me lie all day," Alpha said at one point. "
That ain't working." However, Justice Turner cautioned the witness to stick to answering the questions presented as opposed to offering commentary on the interrogation process and/or those asking them.
The trial continues today.
Moxey was initially arraigned and charged with arson over allegations he set fire to the male dormitory at the North Andros site in January of 2015.
Preliminary reports from police said the fire was the result of arson and the blaze began in the roof around 7pm on the day in question. Officials battled the blaze and managed to extinguish it shortly after 11pm; however, it left one of the male dormitories at the site severely damaged.