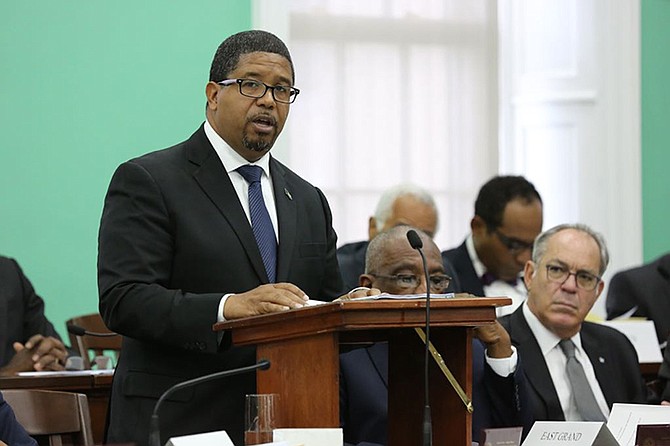 By NEIL HARTNELL
Tribune Business Editor
nhartnell@tribunemedia.net
The Deputy Prime Minister yesterday confirmed he has halted the transfer of more than 250 Customs officers due to the upheaval such a shake-up threatens to cause.
K P Turnquest told Tribune Business that the Government was "actively reviewing" the Comptroller's strategic plan, which proposes transferring hundreds of officers - from the highest to the lowest ranks - to different islands and functions.
This newspaper has obtained the six-page September 19, 2017, memorandum from comptroller Charles Turner listing the personnel transfers, which impact superintendents all the way down to clerical assistants.
The re-organisation was set to affect 15 Customs superintendents, with one set to be transferred from Lynden Pindling International Airport (LPIA) to Freeport, and another going in the opposite direction.
Another superintendent was to be switched from Governor's Harbour in Eleuthera to Customs' bonded goods section, while another was to be redeployed from Post Clearance Audit to that same Family Island.
The transfers involving the superintendents were typical of those affecting all other ranks, with Customs officers, for example, being transferred to the LPIA in Nassau from islands such as San Salvador and Long Island. Other moves went the other way, with persons being switched from Nassau to the Family Islands.
The Comptroller's memorandum contained no rationale for the transfers, or the selection of those involved, with the moves largely set to take effect on two different dates - September 25, 2017, and November 6, 2017.
Mr Turnquest yesterday indicated he had halted the transfers, at least temporarily, due to the potential turmoil it threatens to cause for both Customs and its officers' families.
"We are actively reviewing the Comptroller's strategic plan, and as soon as we have had an opportunity to meet and discuss that, we will proceed with whatever direction needs to be taken," Mr Turnquest told Tribune Business.