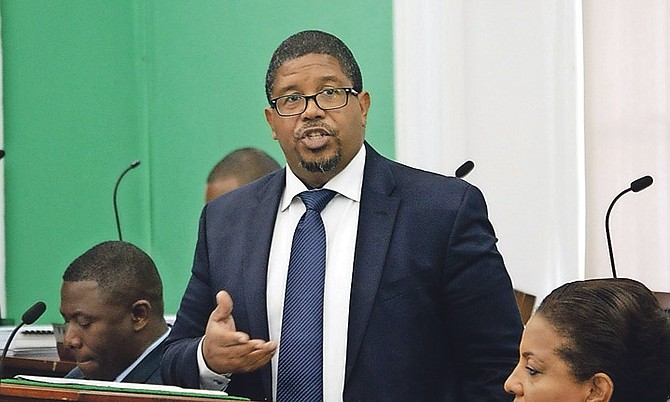 By RASHAD ROLLE
Tribune Staff Reporter
rrolle@tribunemedia.net
THE Minnis Administration suspects the Christie Administration spent more than $40 million of hurricane relief funds in a failed bid to buy the election, Deputy Prime Minister Peter Turnquest said yesterday.
He was responding to Exuma and Ragged Island MP Chester Cooper who said in a statement over the weekend that Mr Turnquest was irresponsible for saying the government cannot locate $42 million of the $150 million the Christie Administration borrowed following Hurricane Matthew last year. Mr Turnquest had made that revelation in Parliament last week. 
In a statement yesterday, Mr Turnquest said: "The PLP government, we suspect, obtained a resolution to borrow $150 million on hurricane relief but instead diverted $40 million plus of that sum for unauthorized expenditure on any number of things in an ultimately vain effort to buy an election win. And while that money most likely went to their cronies and other wasteful spending, it is the Bahamian people who are now stuck with the bill!"
This comment came after Mr Turnquest rejected the idea that he accused the Christie Administration in Parliament last week of stealing or misappropriating the hurricane relief money that is unaccounted for.
"It is a simple fact that the Ministry of Finance was able to tie approximately $108 million directly to hurricane expenses but we were unable to say at that date how the balance of $42 million was spent or if those funds were absorbed into the consolidated fund and spent to cover usual bills as suggested by the opposition, which was not the stated purpose of the borrowing," he said. "To suggest that I stated (in Parliament last week) that the money was stolen, misappropriated or went missing is deceitful and entirely misleading."
Mr Cooper called in a statement over the weekend for the government to better clarify its upward revision of the deficit for 2016/2017. The deficit has been revised upwards from the initial projection of $500m to $695 million.
"With respect to the fiscal deficit," Mr Turnquest said yesterday, "I have explained the difference between actual cash basis reporting and a projection, which is inherently based upon judgment considering known facts.  
"If this concept is unclear to the Opposition then they will have bigger problems going forward.  As to where the money came from to pay those bills, the Opposition should recall the borrowing resolution they helped pass just a few short months ago to cover these expenses."