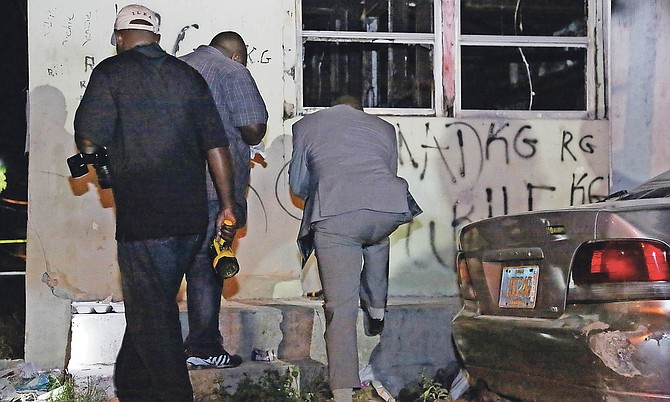 SHENIKA Hart asked God to forgive her and watch over as she lay dying feet away from the home she shared with her three daughters.
Shenika was shot multiple times and killed late Tuesday night in a drive-by shooting which left two men in serious condition in hospital.
According to reports, shortly after 8.30 pm Shenika was standing in front of an unoccupied building at Peardale off Wulff Road alongside two men when the occupants of a white "Japanese" vehicle pulled up armed with a shotgun and shot them.
Shenika was pronounced dead at the scene while the two men were rushed to hospital where they remain in serious condition.
Her best friend of more than 30 years, Aniska Bain told the Tribune yesterday that despite losing two of her sons and two of her daughters' fathers, Shenika was still "one of the happiest, friendliest" people she has ever met.
One of Shenika's sons was hit by a car while attempting to cross Market Street several years ago, a short while after that she gave birth to another son who died a few days later. The father of Shenika's middle child was murdered a few years ago and another father died of illness last year.
Ms Bain recalled the moments right before she watched her best friend die.
"She was a nice person, she loved her girls. She had five kids but she lost her two boys so she really took to my son and loved on him. One of her sons was knocked down on Market Street and the other son died a few days after he was born. Her daughters are 19, 12 and five. They are very intelligent children, the five year old already knows that her mother has passed and she is taking it hard," she said through her tears.
"I was in by bed when I heard the gunshots and I turned off my TV and my light and I went on the floor and then when the shots stopped I ran outside because I thought it was my nephew. Come to find out it was 'Ninny', that's her nickname. So I went back inside and put on a dress and I went on my knees and I told her to pray with me and she was gasping for breath. I just told her to pray and ask God for forgiveness. I couldn't take it so I got up and walked off.
"Two other guys were shot too and there was so much commotion going on, everyone was just so scared and people were trying to call the ambulance and call the police to try and help. Her middle child was there and she was a mess and losing it and crying and hollering and we were trying to tell her, her mother wasn't dead, but she was. She died right there on the floor."
Ms Bain said Peardale is normally a peaceful area ,but this incident has caused residents to be "fearful".
"These boys around here don't bother anyone, I don't understand why this happened. Something like this has not happened here in a long time and now we're back into fear mode," she said.
"This area is peaceful we all hang around there in that same spot. Now we are scared again and we are back with sleeping with chairs at our doors. I didn't sleep at all last night. It's just scary now. She was a nice person, honestly. 'Ninny' was the life of this yard, I will really miss her."
A neighbour, who wished to be referred to only as Vado, said he ran over to Shenika right after he heard the shots.
"I was sitting on my porch and the car pulled up and all I heard was gunshots. So I ducked on the floor," he said.
"When it stopped I went over to her, she was my friend. I tried to help her, but it was no helping. You could see it was too late for her. The other two men were responsive, but she was gone, you could see it."
Police have no-one in custody and no motive for the crime. Anyone with information on this homicide is asked to contact police at 911 or 919, the Central Detective Unit at 502-9991 or Crime Stoppers at 328-TIPS.
Investigations continue.