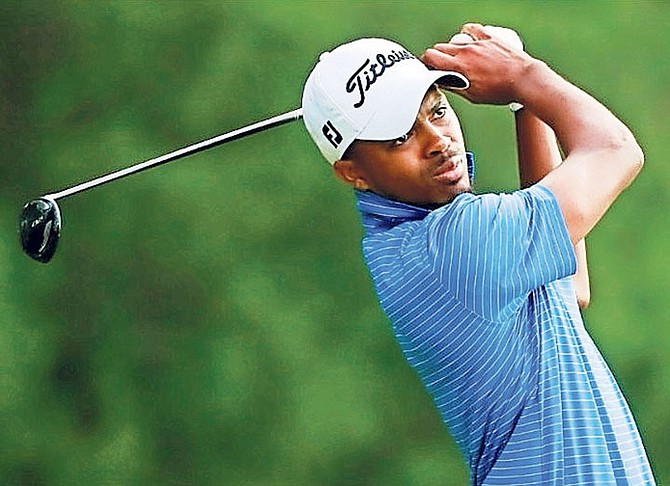 By BRENT STUBBS
Senior Sports Reporter
bstubbs@tribunemedia.net
It wasn't the type of performance that he anticipated, but Devaughn Robinson was still delighted to have been a part of a prestigious group of players in the US Mid-Amateur Championships.
Last week in the championships at the Capital Country Club in Atlanta, Georgia, Robinson shot 72 and 71 to advance out of the Stroke Play tied with American Charles Waddell from Chicago, Illinois, who shot 75 and 68 as they finished in a two-day score of 143.
That earned him a berth into bracket play with the number 16th spot.
"The competition was good. We had the best amateur golfers in the United States and some from around the world," said Robinson, who graduated from Texas Southern University with his bachelor's degree in 2010 before going on to earn his masters in 2012.
"There were a lot of really strong players, some of them former pros and some were really high ranking amateurs, so it was good to see my game matched up against them. I had the better game, I just needed better execution."
In the round of 64, Robinson won over American Jon Lindstrom from Broomfield, Colombia. It came down to a playoff spot where Robinson went on to shoot a birdie on the first hole to stay alive.
In the round of 32, Robinson again prevailed with a victory over American Ryan Sloane from Campbell, California. Robinson took the early lead and maintained it before pulling off the win on the 17th hole.
However, the 29-year-old mechanical designer for Valco Instruments in Houston couldn't get by American Bradford Tilley and was eliminated from further competition. Tilley, the number one seed and a former professional player, was solid as a rock and he got the best of Robinson, who played with some blisters on his hand, losing on the last hole. "The competition was stiff, but you have to expect that when you are playing at this level," he stated. "I'm looking forward to improving on my finish next year."
Robinson, who qualified with a one-under-par 71 in August in Houston at the Woodlands Country Club, said he realised that he can take his game as high as he wants it. "If you had asked me that question about three years ago, I would have probably said this was where I wanted to be," he said. "So I'm happy that the hard work and dedication is paying off, but I would like to take it further."
The 2005 graduate of Queen's College said he had to play five rounds in four days, but if he had advanced all the way to the final, he would probably have played 10 rounds in seven days.
"I felt that the format played to my advantage because I keep myself in pretty good shape and I was prepared physically for the endurance part of the tournament," he pointed out.
"I was looking forward to playing a number of rounds in the shortest amount of time, but things just didn't work out as I expected. I was prepared physically and mentally."
The son of Walter and Phillipa Robinson, who resides in Houston with his wife Fabricia Robinson from Grand Bahama, was coming off his first major victory when he took the Greater Houston City Amateur Championships title at the Memorial Park Golf Course in Houston, Texas at the end of September, will be returning home this weekend.
He will participate in the Bahamas Golf Federation's local qualifier for the Bahamian exemption spot for the Web.com events on Saturday at the Baha Mar's Royal Blue Golf Course.
The Web.com events include the Bahamas Great Exuma Classic January 8-11 at the Sandals Emerald Bay in Exuma and the Great Bahamas Abaco Classic at the Abaco Club January 22-25.
Following the qualifier, Robinson will travel to Santiago, Chile to compete in the Latin America Amateur Championships at the Prince of Wales Country Club January 20-23.