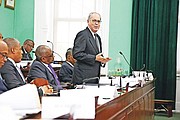 By RASHAD ROLLE
Tribune Staff Reporter
rrolle@tribunemedia.net
IMMIGRATION Minister Brent Symonette and Deputy Prime Minister and Minister of Finance Peter Turnquest are looking at how to fund the increased repatriation exercises that will come in response to Prime Minister Dr Hubert Minnis' goal of more stringently enforcing the country's immigration laws.
During his appearance on Guardian 96.5fm yesterday, Mr Symonette told host Quincy Parker that $1.4 million has already been allocated in the 2016/2017 budget for repatriation exercises.
However, "that figure if we are going to do (repatriating exercises) stringently, is going to go up," he said.
"The Deputy Prime Minister and I are in conversations at the moment about how we are going to fund this process and that's a work in progress so I don't want to go any further than that," he said.
Fees
Mr Symonette floated the possibility that work permit fees, which haven't been raised in years, may be raised to fund the increased repatriation activities.
During a wide-ranging interview on immigration, Mr Symonette reiterated his view that the administration will be humane in how it deals with people who may have run afoul of immigration laws.
In response to assertions from some that the Minnis Administration's new immigration policy is more a reflection of his wishes than Dr Minnis', he said: "The policy is a policy of the Prime Minister."
Mr Symonette also said that for people who have been in the country a long time, he would support a mass regularization type of process.
"I do a swearing in like I did last week," he said. "These people have been waiting 20, 33, some cases 40 years to be regularized. They have an entitlement as far as they are concerned to be regularized as a citizen of the commonwealth of the Bahamas. They feel frustrated, angry, whatever word you want to use. So if we're going to do a mass regularization of them, I see nothing wrong with that. If you been waiting in a country 20 years, you feel like you belong."
Mr Symonette highlighted the problem of fraudulent documents turned into the Department of Immigration, adding that foot printing may be necessary to address the issue.
As an example, he said: "There's one man who has citizenship and another man who was deported; they both have the same birth certificate; will the real John Doe please identify themselves? That is not unusual in the Department of Immigration. Many persons bring fraudulent documents. It's a common occurrence.
"Yes we have a lot of fraudulent documents coming to immigration from many nationalities. We have persons say they were born here, left the country, come back 27 years and claim to be that same person who was born here. Any of you who've had children recently, you get a delivery certificate from the hospital; when I was born the registrar came and sat in the hospital, looked at my mother and looked at me and said that's the same child (and then they) registered you right in the hospital; that doesn't happen now.
"You take your baby, you go down to another department and you register the baby. Who's to say that baby at year one is the same man or woman that comes back 27 years later? So we have to look going forward at possibly foot printing; it's an issue has been around for a long time but that's the facts of life."