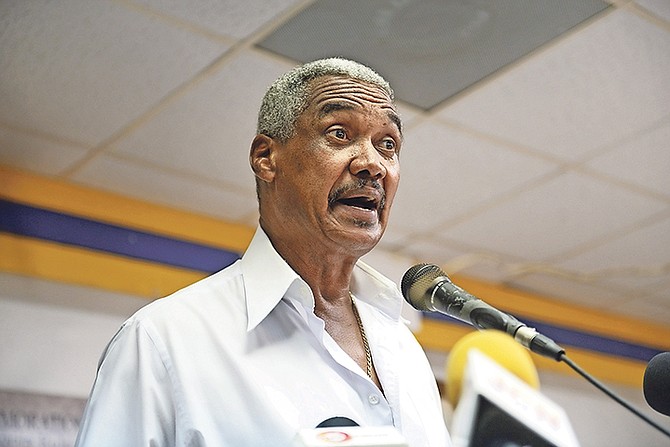 By RICARDO WELLS
Tribune Staff Reporter
rwells@tribunemedia.net
BAHAMAS Power and Light's policy that allowed workers with overdue accounts to avoid disconnection was instituted for "leniency in hard times," not as "privilege," claimed Bahamas Electricity Corporation Executive Chairman Leslie Miller.
Calling BPL's recent decision to drop the policy "a dramatic change," Mr Miller told The Tribune he was in no position to critique the move.
"Son, the move has been made and as big as this is, this is a dramatic change to say the least, I can't breathe on it because the government, through the corporation has made its decision."
The former Tall Pines MP said the system, as he found it when appointed Chairman, was not operated to favour employees, but rather to offer them opportunities to "get it together."
Mr Miller claimed: "Normally you would have allowed staff to have a balance and deduct from their salaries because we knew in the months of January and September things were tough."
He continued: "I don't want people to look at this and think otherwise, we weren't doing this as a privilege. We knew in September and January things were a little tougher, so we gave a little leniency in hard times."
"It was the standard practice. Nothing special; things tough, so you help."
In a memo obtained by The Tribune last week, BPL said it was "intensifying its disconnection exercises" in an effort to improve the company.
However, it was unclear how many BPL employees had overdue accounts or how much money was owed the corporation.
"Effective immediately, we will be disconnecting the electricity supply on all employee accounts with substantial arrears," the memo said.
"Therefore, employees are strongly encouraged to take the necessary measures to bring their account balances to a current status in order to avoid the interruption of their electricity supply."
The memo came two months after The Tribune revealed that BPL gave politicians and government officials who were on the special "do not disconnect" list seven days to pay their "outrageous" bills or be shut off.
BPL chairwoman Darnell Osborne declined to comment on the matter when contacted yesterday.
In September, Central Bank of The Bahamas' monthly report that revealed that BPL's fuel charge increased by 8.3 per cent to 13.7 cents per kilowatt hour (kWh) on a monthly basis, and by 49.7 per cent when compared to May 2016.
In a statement, BPL explained that an increase in bills for the month of May was also caused by its reliance on engines at the Blue Hills Plant, which uses more expensive fuel than the Clifton Power Station.
More like this story