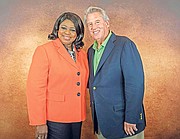 By FELICITY INGRAHAM
Gena Brown always knew she had a calling in life. She always loved to help people and inspire them to be their best. And along the way the reaped great benefits from sowing seeds of guidance and love into the lives of those she comes in contact with.
Little did she know that these traits would lead her on a path of becoming an international coach, linked to a network of some of the top coaches in leadership from around the world.
The John Maxwell Team brings together coaches, speakers, teachers and professionals from all over the world who collaborate on leadership training, talents and skills to transform lives.
John C Maxwell is an American author, speaker and pastor who has written many books, primarily focused on leadership, including "The 21 Irrefutable Laws of Leadership" and "The 21 Indispensable Qualities of a Leader".
As a leader, he discovered that "people buy into the leader before they buy into the vision", and because of this he decided to help people become the leaders they are destined to be. He believes that, "A man must be big enough to admit his mistakes, smart enough to profit from them, and strong enough to correct them."
Mrs Brown discovered the John Maxwell Team and immediately knew it was a calling on her life to go even further as a leader, speaker, teacher, trainer and coach.
Inc Magazine voted John Maxwell as the "#1 leadership and management expert in the world. His team consists of a community of over 15,000 team members from every age group, stage of life and industry. Team members have the opportunity to shave years off of developing themselves and their businesses by associating with the power of the Maxwell brand to open doors for them. They are taking advantage of more than 40 years of proven leadership curriculum from John himself, who promises that they will be equipped with the very best leadership skills, tools and resources to make them more successful in life and business."
The organisation is affiliated with corporate brands such as Nova Southeastern University, ComCast, Toyota, Marriott, MetLife, Coca Cola and Goodyear.
Mrs Brown completed the John Maxwell Certification Programme this past August and returned home from the US excited put her newly learned skills to work. She is officially recognised by the John Maxwell Team as an independent certified and licenced coach, teacher, trainer and speaker. She is also the founding president of the Professionals Empowerment Network, a non-profit organisation created to support, equip and empower senior aged persons within the local community and globally. She plans to use her knowledge, skills and abilities to positively impact as many such persons as she can.
She also received specific training in areas such as 'masterminding', which involves fostering a synergy of energy, commitment and excitement that participants bring to a mastermind group.
"My facilitated groups offer a combination of masterminding, peer brainstorming, education, accountability and support in a group setting to sharpen your business and personal skills," said Mrs Brown, who is filled with fresh ideas and new perspectives on leadership since completing the John Maxwell certification.
Mastermind groups serve to: increase one's experience and confidence; sharpen business and personal skills; add an instant and valuable support network, and more.
Mrs Brown also conducts leadership assessments to determine where her clients are and where they need to go to be the most effective and ultimately, increase their personal wealth.
To contact Gena Brown, visit: http://www.johncmaxwellgroup.com/genabrown.