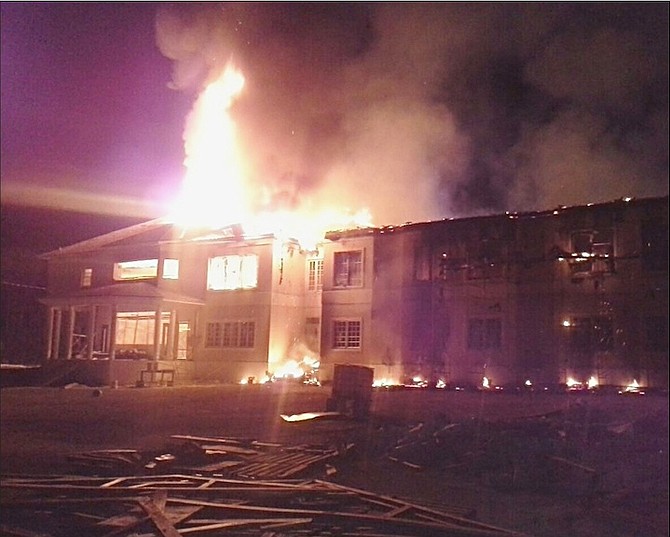 By NICO SCAVELLA
Tribune Staff Reporter
nscavella@tribunemedia.net
DAVE Dion Moxey yesterday thanked Supreme Court jurors for their "honesty" after they found him not guilty for setting fire to a male dormitory at the Bahamas Agriculture and Marine Sciences Institute (BAMSI) in January of 2015.
A jury of nine –six women and three men – returned the unanimous verdict after a little under an hour of deliberating, which followed a full day of submissions from both the Crown and Defence as to why Mr Moxey should or should not be convicted.
Upon hearing the verdict, Mr Moxey, 53, of Fresh Creek, Andros, stood to his feet from the holding bar and told the jury: "Thank you for your honesty." He then left the holding bar, shook hands with his attorney Calvin Seymour, and walked past The Tribune on his way to the restroom, shaking his head in relief.
Yesterday marked the end of a two-week trial into Mr Moxey's alleged plans of arson in connection with the January 15, 2015 incident.
Earlier yesterday, Mr Seymour, in making his closing submissions, called on members of the jury to "do the right thing" and "let him go home", referring to his client.
Mr Seymour told the jury that while the Crown did introduce the possibility of there being a motive behind the fire in earlier proceedings, they had not established a nexus between that motive and his client.
Throughout the trial, it was strongly suggested by various Crown witnesses, and even Mr Moxey himself, that unpaid labour at the North Andros site was likely the primary motive for the fire.
Mr Moxey claimed the resentment held by various Haitian and Androsian workers for being unpaid was so intense he was sceptical about accepting a job to work at BAMSI, and only did so subsequent to agreeing to certain conditions with his employer, Whitney Bastian.
However, Mr Seymour said the Crown had not proven that Mr Moxey, who insisted while being cross-examined that he was paid in full for the work he did on the site in August of 2014, was instead not paid and was consequently just as irate as the many others he had previously claimed were also unpaid at the site.
And, Mr Seymour submitted, even if they did prove that Moxey had a motive for committing the crime, it would mean Mr Moxey would have had to leave where he was in Fresh Creek and reach BAMSI within a matter of minutes, despite BAMSI being roughly 45 minutes to an hour away by car.
Mr Seymour further challenged the testimony of the Crown's anonymous witness "Alpha", who previously claimed Moxey approached him with a cutlass in a threatening manner near his trailer home on the day in question, and forced him to walk in front of him all the way to the dorm's roof, where Moxey allegedly lit the fire in two separate areas.
Mr Seymour countered by saying "it doesn't make sense" for Moxey to disturb the security guard solely to burn down the building. Furthermore, Mr Seymour said it was nonsensical to believe that Moxey would wait until January of the following year to set fire to the dorm if in fact he hadn't been paid.
"Let's say he was not paid in August," Mr Seymour submitted to the jury. "Wait till January to burn it down? It doesn't make sense."
However, Crown prosecutor Darrell Taylor, assisted by Donard Brown, called on the jury to "chisel away" at the "red-herrings" and "smoke screens" proffered by Mr Seymour and Mr Moxey and see the case "for what it is."
Those "red-herrings" and "smokescreens", Ms Taylor suggested, were highlighted in what she suggested were inconsistencies contained in Mr Moxey's testimony on the witness stand as compared to the contents of his record of interview and official statement to police in 2015.
Previously, Mr Moxey said that on January 15, 2015, he had spent the entire day in Fresh Creek doing carpentry work, and that around 6pm he was at Adderley's Liquor Store having a Guinness beer after having met with the store's owner, Dale Adderley, just hours earlier.
At the time, Mr Moxey said Darlene Adderley, Mr Adderley's daughter, as well as his own brother Donny Moxey and another relative, saw him in Fresh Creek on the day in question, and could vouch for his appearance there.
However, Ms Taylor, as she had done while cross examining Mr Moxey, said Mr Moxey did not provide "one scintilla of evidence" and questioned why he did not tell police something as crucial as the names of the various people he claimed saw him in Fresh Creek.
She further questioned why Mr Moxey, according to both the record of interview and his official statement, opted to say anything other than things that either exonerated him or at the very least serve as a solid alibi, suggesting doing so would be in line with what anyone accused of a major crime would do.
However, the jury ultimately returned a unanimous not guilty verdict, after being guided by Justice Bernard Turner during his summing up of the facts of the trial.
Mr Moxey was initially arraigned and charged with arson over allegations he set fire to the male dormitory at the North Andros site in January of 2015.
Preliminary reports from police said the fire was the result of arson and the blaze began in the roof around 7pm on January 15, 2015. Officials battled the blaze and managed to extinguish it shortly after 11pm; however, it left one of the male dormitories at the site severely damaged.