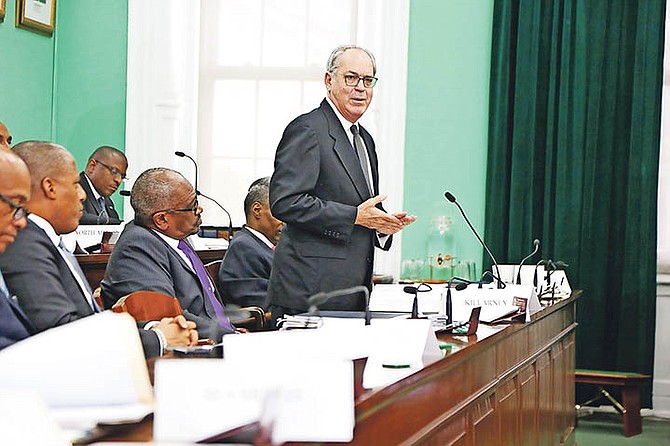 By NEIL HARTNELL
Tribune Business Editor
nhartnell@tribunemedia.net
THE Government yesterday unveiled a 'fast track' process, targeted at specific industries, that will allow top foreign executives to enter the Bahamas without possessing work permits.
Legislation tabled in the House of Assembly reveals how Brent Symonette, minister of financial services, trade and immigration, is moving swiftly to deliver on his pledge to "liberalise" the Bahamian economy.
The Commercial Enterprises Bill is touted as "seeking to liberalise the granting of work permits to an enterprise that wishes to establish itself in the Bahamas", and requires such approvals for its top executives and senior personnel.
The Bill, if passed into law as is, would enable a 'specified commercial enterprise' to obtain an Investments Board certificate granting it a specific number of work permits for certain positions.
The 'certificate', which will initially be issued for one year and can be renewed, would allow key personnel to set up the company's physical operations in the Bahamas before they obtained a work permit.
Such a permit must be applied for within 30 days of their entry, and the Bill mandates the Director of Immigration to make a decision on approval within 14 days of receiving the application. Should the Director not respond within that timeframe, the work permit is "automatically deemed to have been granted".
Work permits issued under the Bill's provisions will be for a three-year period, and are renewable for the same duration. They can only be revoked on grounds of "public safety, public morality or national security".
The Minnis administration's 'fast track' work permit approval process is likely to arouse political controversy, and opposition from certain segments of society, given how emotive Immigration is for many Bahamians. With the unemployment rate still stubbornly high at around 10 per cent, fears of 'foreigners taking Bahamian jobs' will undoubtedly be stoked.
However, the Commercial Enterprises Bill indicates that the Government is 'thinking out of the box' over ways to stimulate the Bahamian economy, and create jobs and economic growth, by attracting foreign-owned businesses to domicile in this nation.
These companies must meet a qualifying criteria to obtain a 'specified commercial enterprise' certificate, including a minimum $250,000 investment and Investments Board approval, and produce a business plan that details "training and capacity-building opportunities" for Bahamians involving jobs initially held by work permit holders.
The 'specified commercial enterprise' legislation is also targeted at specific industries - chiefly foreign exchange earners, and those which have been cited by the Minnis administration as part of its economic growth and diversification strategy.
Financial services leads the way with reinsurance; captive insurance; investment fund administration; arbitration; wealth management; international trade and international arbitrage included in the 'fast track' work permit sectors - just as Mr Symonette has indicated in recent presentations.
Also listed in the Bill are technology-related industries such as computer programming; software design and writing; bioninformatics and analytics; nano technology; and biomedical health facilities.
The Government has targeted Grand Bahama as a technology hub, and the inclusion of 'boutique health facilities' on the 'fast track' list adds to the focus on health. Data storage and warehousing are also present, as is aviation registration and 'approved' aviation maintenance operations - again sectors that have been identified by the Minnis administration as potential growth drivers.
The list is concluded by 'call centres' and manufacturing and assembly/logistics businesses.
Brian Moree QC, senior partner at McKinney, Bancroft & Hughes, told Tribune Business that the Bill represented an "innovative" effort by the Government to use Immigration policy as a national development tool - something many in the private sector have called for, but which previous administrations have shied away from.
The Bill also allows the minister for financial services, Mr Symonette, to develop regulations identifying any island "or any part of an island" as a 'specified commercial enterprise zone' - something Mr Moree said would allow it to direct specific investments and industries to islands badly needing an economic boost.
Emphasising that he had not personally seen the Bill, Mr Moree said it was attempting to bring certainty and predictability to work permit approvals and issuance timeframes.
This has long been sought by many Bahamian businesses, and the prominent QC said the Commercial Enterprises Bill could also help to boost the country's economic competitiveness and 'ease of doing business'.
"That sounds like a very innovative and interesting piece of legislation," Mr Moree replied, after being informed of the Bill's contents by Tribune Business. "I haven't seen it, but that's refreshing.
"I think that the industry will respond very favourably to the provisions of this Bill, and it is a tangible and substantial response to a long-standing issue relating to work permits in the financial services industry, which is principally a global industry involving multinational and overseas businesses and operations.
"I have to study the Bill more carefully, but at first glance it does seem to address a number of important issues," he continued. "One, it introduces a level of certainty in the process relating to work permits for business enterprises.
"Second, it guarantees a very reasonable turnaround time for the applications to be processed and dealt with, and thirdly, it's innovative and creative in using Immigration policy as a tool of national development."
Mr Moree said the "structured" provisions for training Bahamians were "a laudable objective", and an essential component in ensuring that the Government met the public's career aspirations."
He added that the Commercial Enterprises Bill also "indirectly addresses two other major priorities which are critical for our country.
"It does seem to enhance our competitiveness in specific areas," the prominent QC told Tribune Business, "and at least indirectly would seem to contribute to the ease of doing business.
"The process is defined, the time periods are fixed. There is an element of predictability, which is important."
The Bill also allows Mr Symonette to establish 'specified commercial enterprise zones' "for the purposes of rationalising infrastructure investment, efficient land use or the encouragement of clusters of commercial development". He can also work with the Minister of Finance to develop investment incentives specific to each zone.
Mr Moree yesterday suggested this would enable the Government to direct certain industries and investments to specific parts of the Bahamas, aiding islands that were economically depressed.
"This provision would seem to be intended to enable the Government to surgically target economically depressed areas in the Bahamas, with a view to providing injections of FDI and development to help them," he told Tribune Business.
"It would seem to be a very useful tool for policymakers to further development in depressed areas, and to direct these investments to areas outside New Providence, which I think would be very good for some of the locations experiencing economic and financial hardship."
Mr Moree said the Bill also highlighted how the combination of financial services, Immigration and trade and industry into one Cabinet Minister's portfolio was reaping rewards for the Bahamas.
More like this story