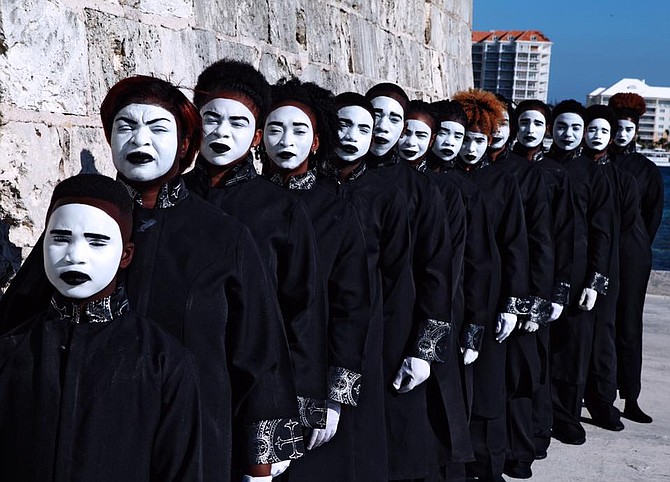 By RASHAD ROLLE
Tribune Staff Reporter
rrolle@tribunemedia.net
KINGDOM Mime, the Bahamas chapter of the world's largest international mime gathering––Paneh MegaMime––is celebrating ten years of its ministry this weekend with its Mime Training Conference and Workshop.
The event will be held at Evangelistic Temple from tomorrow to Sunday, celebrating the theme: "I Am Not Godless."
In the ten years since the launch of the ministry, participants have been a noticeable feature of public events in the Bahamas and have even ministered alongside international gospel artists, from William Murphy to Pastor Rod Lumpkin to Shana Wilson.
Tavarrie Smith, Founder and Director of Kingdom Mime Ministries, said the experiences which stand out the most are those that involve giving back to the Bahamian community.
"The most memorable of our ministry experiences has been the times we have been able to volunteer at Great Commission (something we do each Christmas season), assist in fundraisers for medical conditions, participate at concerts that help raise donations after various hurricanes over the years, and especially those events where we young people come and make a commitment to serve Jesus Christ," he said.
Mr Smith has watched as the mime ministry has grown from one fighting for respect in its early days to one which now occupies a definite space in the country's Christian community.
"… We began with just five members from three different churches," he said. "Mime was still relatively new in the Bahamas and the reception was not always a welcoming one as part of the fine arts ministries within local churches. Then there was the constant association of being a 'liturgical dance group' and we had to work very hard over the years to convince and explain to people why mime is different from dance and, in particular, liturgical dance. A few years into our ministry we started to receive requests from churches to conduct works and training here locally and through those requests we've had the opportunity to conduct workshops on Exuma, Inagua and Abaco islands."
Today, the ministry's membership has increased to 18 members from nine denominations and seven churches.
Mime, Mr Smith said, is appealing in large part for the mystery it imbues.
"When people see the white paint on our faces and the gloves, it automatically draws them in and captures their attention because they know the expressive art of story-telling through mime is about to begin," he said.
This weekend's conference will feature multiple focus pieces, including an emotional tribute to lives lost to crime and violence in the country and a "solemn declaration through mime" that 'The Bahamas Needs You Lord,' Mr Smith said.
"This year we are excited to have Dr. Delainey Bouie from Louisiana and Jason Barnwell from North Carolina, to join Pastors Tim and Chandra Midgette from North Carolina as we mark our big ten," he added.
'"This year there will be mime, dance, flags and even some mime-o-drama.
"Over the two days, participants will be trained in various forms of fine arts and we close out with a free worship concern on Sunday night when doors will open at 6pm," he added.
Friday's session starts at 6pm and ends at 9.30pm. Saturday's session runs from 6am to 6pm.
More like this story