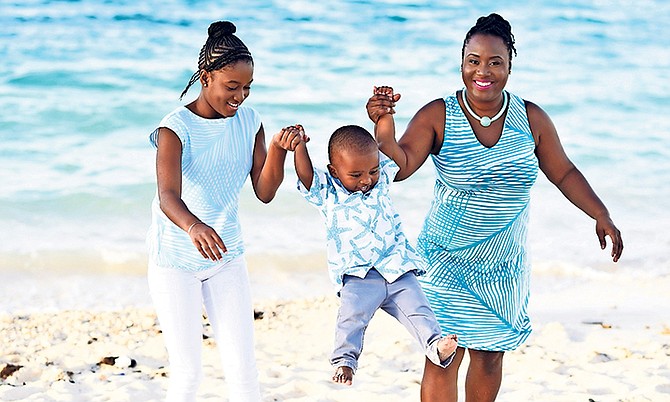 By FELICITY INGRAHAM
When you write a book, it lives on forever in some form. That is the kind of legacy Tosheena Robinson-Blair wanted to create for her daughter, Sierra. But more importantly, she wanted to show her daughter what beautiful things they could create when they put their minds and hearts together. The result - their first collaborative book and a 13-year-old girl with a bright future.
Sierra's first book, "Roman & His Mean Family", documents the colourful life of Tosheena's nearly two-year-old son Roman, who has filled their lives with joy and laughter since his arrival. Roman's favourite word at the moment seems to be "mean", which he uses, along with a pleading look, to state his case in attempting to get anything he wants. Typical things that his mom and dad stop him from doing to protect him, result in a resounding, "Mean!" from Roman. Sierra finds the whole situation comical and used it as inspiration for the book she wrote with her mother.
"He began speaking very early, and he speaks very clearly," Tosheena says about Roman.
She decided that her idea to write a book to document her children's lives in some way, which had lived inside her since Sierra was a baby, should not be put off for another year, especially considering how fast little Roman is growing up.
"It was pretty easy to write the book, since we were drawing from real life, then worked out the details," said Sierra. "My mom and I think a lot alike. We have the same mindset, so it was easy for me to work with her on how we wanted the book to develop, how we wanted it to look. I think it came out pretty well."
Sierra is already thinking of her next book, feeding off of the exuberance she feels from the success of her first publication. She was so amused by Roman's recent adventure at the Ardastra Gardens that she is already working on her next book: "Roman & The Pink Flamingos".
Tosheena loves that the book is a great read for kids under six and can be read by their parents, creating special bonding time. Also, by documenting Roman's life encounters here in the Bahamas, it provides another great opportunity for country to shine, she said. Their market, however, has a global focus, as Sierra wants kids all over the world to read her book.
"We want the buy-in from the Bahamian public; we want to be loved and supported at home first, but I am showing her that her market is the world," Tosheena said.
The book was a way for Tosheena to get her daughter more interested in reading and writing. She is a media and public relations professional, but never intended to force her daughter to follow in her footsteps. Sierra has a passion for marine life and enjoys volunteering with BREEF. But Tosheena knows that media is an important aspect of every industry, and wanted to show her teen daughter how it could be intricately linked to her success.
"She did give me the side-eye at first," admits Tosheena, recalling the day she suggested they write a book together. But once they decided on the topic, Sierra became all enthusiastic.
"She likes for us to do activities together," the mother-of-two said. They took it on as a summer project, completed the book before the end of August, and have now launched it on Amazon for the Kindle, as well as in a paperback edition.
Illustrator Rashad Cash was excited about the project, which Tosheena said made it easier for it all to come together and to keep her daughter excited from start to finish. But it's not really over for Sierra. Since releasing the book, she has been making the few rounds in the local media - something the teenager is accustomed to.
Sierra successfully auditioned for a spot on the 'Youth Zone' teen television show with host Clint Watson, and appeared in her first commercial at the age of seven. She is a socially conscious young teenager and has been expressing herself in the media. She has been interviewed by Patricia Glinton-Meicholas and Pam Burnside on Island 102.9FM, Shenique Miller on The Conversation 96.9FM, and Ed Fields on the Morning Blend on Kiss 96.1FM.
"Writing, editing, watching the illustrations come together, and marketing the book has been an amazing learning experience," said Sierra, who is also an honour roll student.
"Parts of the process were very tedious, like formatting the book to upload to Kindle, and some parts were fun. What I loved the most was getting to see my dreams come true when the book became a reality."
Sierra's social consciousness comes from her mother, who serves as co-chair for the upcoming Susan G Komen breast cancer survivor's ceremony, working with the ever-present memory of her late grandmother Helena Robinson, who suffered from breast cancer.
Tosheena's co-chair and co-worker Gennie Dean, an active supporter of breast cancer awareness, sadly lost her own battle last week, making it even more important for Tosheena to make sure this year's event is one of the best to date. She wants her daughter to see how important continuing family legacies are, even after loved ones, like grandmother Helena, are gone.
"The world is her oyster," Tosheena says about Sierra.
Her mother has set a great example to follow. A creative and talented writer currently employed at Eugene Dupuch Publications, Tosheena will receive an award from the Women of Distinction International organisation for her work in media this December.
The Blairs say that "Roman & His Mean Family" is ideal for teaching the concept of boundaries to children six and under. In the 25-page picture book, precocious Roman believes his family is being mean to him as they won't allow him to circumvent boundaries set for his own protection. The book reinforces simple but nevertheless important messages for little children such as staying away from a hot stove and not running into the road.