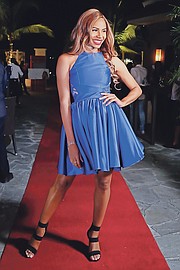 Miss World Bahamas Geena Thompson has completed her trek half way around the world, having travelling to China late last week to compete in the upcoming 67th edition of the Miss World pageant. Geena will go up against beauties from over 120 countries as she represents the Bahamas in the world's largest beauty competition.
The excited goodwill ambassador, who has been preparing for this moment ever since capturing the national title on July 30, was treated to a send-off event worthy of a queen by sponsor The Pointe, which underwrote the cost of her preparations for the international pageant.
A wardrobe unveiling event was held at the Summer Palace restaurant, at which time Geena modelled key pieces which include the creations of designers Mac Duggal, Fernando Wong, Cardell McClam, Judy Deleveaux, Indira Moss, Ria Georgina, Bahari, and other prominent labels. Her Miss World wardrobe also features pieces from Chevette Williamson jewellery, Coles of Nassau, The Collection, and a fabulous national costume by Enigma Bahamas Junkanoo Carnival Group which is inspired by the era of piracy in the Bahamas.
The long list of sponsors who helped to make it happen includes the Island Game Foundation, ALIV, Bahamas Commonwealth Fabrics, Debonaire Boutique, Club One Fitness, All Yours Virgin Remy Hair, H & H Limousines, New Oriental Laundry, Shawn Forbes, Floridita Swimwear and Venus.com.
Geena's road to the Miss World crown officially began on October 20 with the start of the competition. The event culminates with the finale on November 19 in Sanya, China.
Pageant fans are asked to support our queen in Miss World's new head-to-head, nation against nation challenge which will be one of the determining factors in who advances to the final round of the competition. They can also help Miss World Bahamas do well by supporting her Beauty with a Purpose project 'Hope for the Homeless'. Funds are being raised to assist Great Commission Ministries purchase a home to be used as an emergency homeless shelter for women and children. Donations can be made online at www.Gofundme/hopeforthehomeless242 or on the 'Hope for the Homeless' bank account at any Commonwealth Bank branch in the Bahamas, account number 1004371.