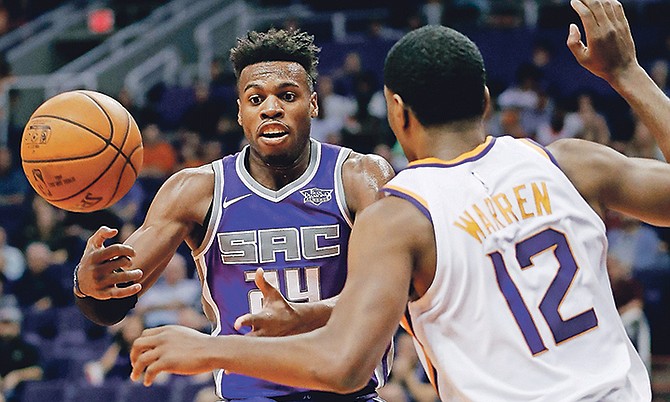 by RENALDO DORSETT
Tribune Sports Reporter
rdorsett@tribunemedia.net
Buddy Hield had a bounce back game following his worst shooting performance of the young season but Monday's game also displayed the Sacramento Kings' logjam at the shooting guard position.
Hield finished with 14 points on 6-15 shooting from the field, 1-4 from three and also added five steals in Sacramento's 117-115 loss to the Phoenix Suns. He played just 17 minutes, the first time he dipped below 22 minutes for the year.
Two nights prior, Hield shot just 1-10 and scored three points in a 96-79 loss to the Denver Nuggets. "The thing about the NBA is you only have one or two days to go back and prove yourself and just try to get better, get a win for your team and move on," Hield told Kings media following a late night shootaround. "You have to just keep growing and just know that this is all a process we have going on right now so I'll just stick with it and build from that."
Against the Suns, other players in the position battle posted more minutes than Hield. Bogdan Bogdanovic played 25 minutes and scored 12 points in his NBA debut and Garrett Temple tied a career high with 23 points in 24 minutes.
Hield played an average of 28 minutes through the first three games while Bogdanovic was sidelined, but said the competition has not affected their relationship.
"I tell him to stay positive and focused," Hield said. "We're glad to have him back and it's a long season. It's good for him to be back on the court with his teammates because (Bogdanovic) a big part of our team. He's a good playmaker, good shotmaker."
The Kings have opened the season 1-3 but the second year guard remains optimistic.
"We have a next one Thursday, a next one Sunday, we just need to build momentum and build confidence for this team so we can keep racking up wins while teams keep sleeping on us and build from that," Hield said.
The matchup on Thursday (October 26) will be a particularly special one for Hield as the Kings host the New Orleans Pelicans at 10:30pm live on TNT.
The Pelicans selected Hield with the sixth pick of the 2016 NBA Draft but traded him to the Kings in a midseason deal centered around perennial All-Star DeMarcus Cousins.
Hield started 18 of 25 following the trade. During his tenure he averaged 15.1 points, 4.1 rebounds, 1.8 assists, 0.8 steals, 2.4 three-pointers made and 2.1 turnovers per game with the Kings. He shot 48 per cent from the field, 43 per cent from three-point territory, 81 per cent from the foul line and was named to the NBA All-Rookie First Team.