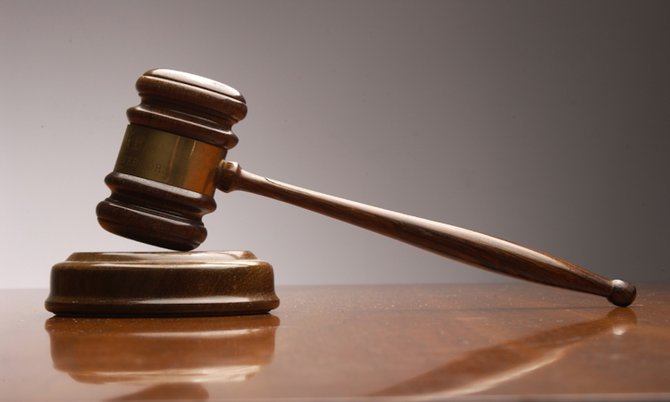 By DENISE MAYCOCK
Tribune Freeport Reporter
dmaycock@tribunemedia.net
A surveillance technician told the Supreme Court he had installed a DVR surveillance system and cameras at Barry and Sheena Johnson's triplex apartment in Deadman's Reef in 2013 - two years before the couple was murdered.
Witness Travis Williams said he knew the two before 2013 and had gone to school with them.
Mr Williams has 20 years of experience in surveillance installation and currently works in the surveillance department at a resort in Bimini.
Last week, the jury in the murder trial was shown video surveillance footage of the murders of two people captured on cameras installed in their apartment.
The incident is alleged to have happened between 9pm and 10pm on September 12, 2015. Four gunmen entered the home and the two victims were shot and killed at their residence in Deadman's Reef. The couple's GMC truck was also stolen.
Mr Williams told the court he set up an eight-channel digital DVR in the front bedroom of the couple's home. He also installed motion-sensor cameras on all the corners of the building.
He said the DVR had a storage capacity of one terabyte and the cameras only recorded when it detected motion to avoid wasting storage. He estimated the system had a capacity to record at least three weeks of footage.
According to Mr Williams, the DVR system was from the brand Eclipse CCTV and had the feature or capability to be viewed over the Internet.
Police Inspector 2509 Steven Rolle of the Central Detective Unit testified he arrested three men between September 15 and September 23, 2015, in connection with murder and armed robbery.
Inspector Rolle identified the three accused in court as Devaughn Hall, Paul Belizaire and Kevin Dames.
The officers told the court that sometime around 7pm on September 14, 2015 he went to Pinedale, Eight Mile Rock, in search of a murder and armed robbery suspect.
On arriving at a residence in Pinedale, he saw a male and identified himself as a police officer. He informed Hall, whom he pointed out in court, that he was wanted for questioning by CDU. Insp Rolle said he arrested Hall and cautioned him and took him to the police custody suite.
Insp Rolle went to Pinedale, EMR, sometime around 8.30pm on September 17, 2007 in search of suspect Belizaire. He said he approached the suspect, identified himself as a police officer and told him he was wanted by CDU.
Insp Rolle arrested and cautioned Belizaire and took him into police custody. He also pointed out Belizaire in court.
The officer went to Holmes Rock around 1pm on September 23, 2015 where he arrested third suspect, Dames. Rolle identified Dames in court. He said he informed Dames he was wanted by the CDU. He cautioned Dames and took him to police custody suite.
"How many persons did you arrest in respect to this matter?" Geoffrey Farquharson, counsel for the accused, asked Insp Rolle.
Insp Rolle said he arrested four people. He said the fourth suspect was Allan Alcime.
Mr Farquharson asked the officer if he had taken Alcime and Belizaire to the Rand Memorial Hospital on September 18, 2015.
Insp Rolle said he took the men to the hospital so that their blood samples could be taken.
Carlson Shurland asked Inspector Rolle if he knew whether Dames had any prior police record, and the officer replied, "No."
"Have you seen an antecedent form?" he asked. "Yes," the officer replied.
Mr Shurland then presented an antecedent form for Dames to the officer, which he read aloud in the court.
According to the report, Dames, 28, had never been convicted of a criminal offence. Mr Shurland asked for the document to be entered as evidence.
The trial continues.