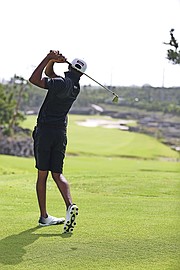 By BRENT STUBBS
Senior Sports Reporter
bstubbs@tribunemedia.net
DEVAUGHN Robinson and Richard Gibson Jr, two of the top amateur players in the country, qualified for the Bahamas Golf Federation's exemption spots into the main draw of the two Web.com tournaments to be held in the Bahamas in January.
Robinson, fresh off his successful appearances in a couple of tournaments in the United States where he is based, came home and took the top spot in Saturday's qualifying round for the Web.com Great Exuma Classic to be played on Sandals Emerald Bay Course January 13-16.
One week removed from his participation in the US Mid-Amateur Championships in Atlanta, Georgia, Robinson pulled off a score of 75 for a one-shot victory over Lemon Gorospe, a professional, who finished with a 76, while Grand Bahamian pro Greg Maycock was third with 77.
"I got what I needed to get done as far as qualifying goes. I didn't play as well as I wanted to," said Robinson, a 29-year-old mechanical designer for Valco Instruments in Houston, Texas, where he resides with his wife, Fabricia Robinson from Grand Bahama. "But, at the end of the day, it's just about getting the job done and that is what I did. So I was satisfied that I qualified for the Exuma event because I can play in that, but I knew I wasn't going to play in the Abaco one because of a scheduling conflict."
During the tournament, Robinson said he struggled in the first couple of holes, but he was able to pull it together and he finished with an even par.
"It was windy both days. The first day wasn't as windy as the second, but the course played tough, the pins were in some tough positions and the greens were pretty fast and it was just an overall tough tournament to play in," he admitted.
"You had the best amateurs and professionals in the country. It was a small group of guys that I felt I really needed to play well to beat. I felt there were a few people I had to play well against to beat and I got to take care of that."
And being back home, Robinson said there was no better pleasure for him than to play on what is considered his home turf in the Bahamas and he had a little more incentive to play a lot better.
On the final day of competition on Sunday, Gibson Jr emerged as the qualifier of the Web.Com tournament in Abaco from January 20-23 with a score of 76 followed by Maycock with 77. Robinson and Ricardo Davis Jr were both tied for 3rd with 78.
"My performance was pretty decent," said the 26-year-old Gibson, who didn't get to compete until the final day of competition after he was urged by his bosses at Baha Mar to compete. "I wasn't expecting to bounce back the way I did because there was a lot of wind.
"I managed to get back to even par before I made the turn to go on the back nine and got to one-under-par at one point. But I made one or two bad swings with three pop up tee shots that really screwed me on the backside, which resulted in a double and two bogeys and caused me to finish with a 76."
Gibson, however, said he would not be able to play in the Great Abaco because he has confirmed along with Robinson to represent the Bahamas at the Latin American Amateur Championship in Santiago, Chile, which will be played at the same time as the Abaco event.
"I don't think my game is to the point where I feel as if I could ply in it," Gibson said. "I feel I need to get my feet wet to play on the bigger stage in some amateur tournaments in the Latin American region to see where my game really is."
The BGF has confirmed that the spot has been awarded to Maycock who will now be eligible to play at Abaco's Winding Bay Golf Course.
When contacted in Grand Bahama on hearing the news, 58-year-old Maycock was ecstatic.
"This is the first nation wide event that I will now get to compete in," said Maycock, who indicated that since turning pro in 1981, he's competed in a number of tournaments, including the Hooter's Tour in the United States to try and qualify for the main draw.
"Everything has turned around that quick. I was hoping to at least hear some news by November or December to do some things to turn things around. But they have given me the green light this early, so I don't have no choice but to get ready now."
Based at the Rugby Golf Club in Grand Bahama as a golf pro/starter, Maycock said he's looking forward to representing the country at home in such a prestigious event.