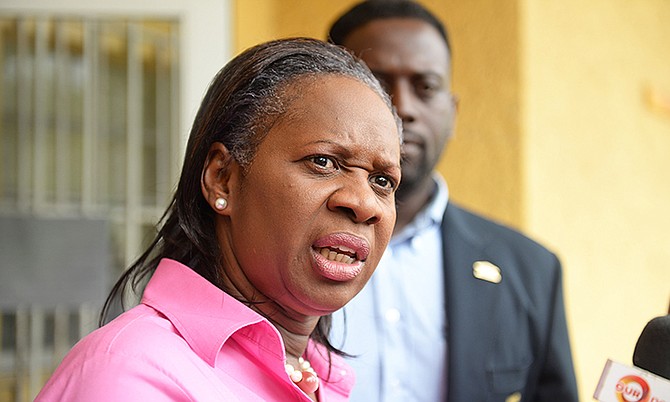 By RASHAD ROLLE
Tribune Staff Reporter
rrolle@tribunemedia.net
A VIRAL video of junior high school girls gyrating on a platform as fellow students watched and cheered at a public school function drew outrage yesterday.
Bahamas Union of Teachers (BUT) President Belinda Wilson said the video features students of H O Nash Junior High School during an event at the school's "fun day" on Tuesday.
The video shows three girls, believed to be ninth and eight graders, gyrating to dancehall music during a dance competition on an elevated platform in the school's assembly area as other students watch.
At one point, a boy jumps on the platform and runs directly behind one of the girls, staring at her bottom as she gyrated while bent over. A second girl then jumps on stage and begins twerking before she dropped into a split, prompting cheers from other students. A third girl then comes on stage and starts to gyrate suggestively. A disc jockey is overheard encouraging the students' behaviour.
At one point during the video, an adult male is seen walking through the throng of students, but it is unclear if he is a school official.
Mrs Wilson said what happened is "unfortunate."
"Someone should have been there to monitor them," she said.
When The Tribune spoke to her yesterday, she had not yet spoken to the school's principal.
"I would have to get the information from the principal as to if there were persons assigned to monitor the dance," she said. "When you have a fun day, you would have different areas of responsibility for each teacher or department. It begs the question as to who would've been assigned to the dance."
Ms Wilson stopped short of saying someone should be disciplined for not monitoring the children.
Education Minister Jeff Lloyd spoke to local broadcaster Our News about the issue yesterday, placing the blame on the way some parents raise their children.
"It is disturbing, there is no question about it, but that's not the fault of our schools. These children come from a home . . . somebody namely parents, guardians, whomever, are responsible for their conditioning," Mr Lloyd told the news station.
"Where is this behaviour learnt? Not at the school."
Mr Lloyd said he would await the full report on the incident before determining what punishment, if any, would be given out. However he said he was in full support of the school and its principal.
The Ministry of Education also released a brief statement on the controversy yesterday, saying the matter was being looked into.
"The Ministry of Education is aware of a video circulating on social media in which it appears that students are dancing inappropriately on a public school campus," said the statement from Acting Director of Education Marcellus Taylor. "We await the findings of an internal investigation to determine what future course of action will be taken."
Across social media, people reacted angrily as the video drew thousands of viewers.
"Minister of Education, please as a mother, we crying out to find out what went wrong here in this video - and now should fun day be removed out of the schools?" wrote one person on Facebook.
Another said: "If this is a school sponsored event, the head master/mistress should be removed from office. This is a disgrace. The school yard is not the place for this type of performance. The young girls are inviting boys to treat them with disrespect and possibly encouraging rape. Thank God these are not my girls––as a parent I would be ashamed."
Not everyone thought outrage was warranted, however.
One user said: "This ain't nothing new…y'all went to private school aye? This been happening for years, the only difference is smart phones…good thing they wasn't around."