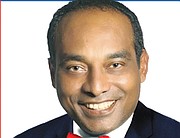 By RICARDO WELLS
Tribune Staff Reporter
rwells@tribunemedia.net
THE long-discussed legislation that would allow for the legal preservation of marine protected areas in Bimini could face several changes, as legal documents have surfaced detailing the 1998 purchase of a large section of the proposed MPA to former Bimini Bay developer Gerardo Capo.
In an interview with The Tribune over the weekend, Environment and Housing Minister Romauld Ferreira confirmed the validity of the documents circulating across social media platforms, but insisted the process to protect Bimini's environment had not yielded.
Referring to the conveyance which highlights the 685.454 acres purchased by Mr Capo via the controversial Quieting Titles Act, Mr Ferreira, an environmental attorney, said a review of the proposed MPA by his office has shown that portions of the land being considered for the MPA was indeed "private land".
Residents in Bimini have long demanded clarification on how much Crown land Mr Capo had received, believing his acquisition of property in Bimini was made via investment proposals and not an outright purchase.
Mr Capo, through his RAV Bahamas/OPAC group originally, and in later years, his Resorts World partnership with the Genting group, has been heavily criticised for his development of land on the North Bimini Marine Reserve and the East Wells area.
In July, amid claims that Resorts World Bimini was seeking to add a water park and golf course at the expense of the Bimini's mangroves, Fred Smith, director of Save The Bays (STB), and Sam Duncombe, founder of advocacy group reEarth, both stressed the importance of an MPA in the area.
Mr Smith at the time criticised successive administrations for not enacting the necessary legislation that would have allowed for the MPAs.
For his part Mr Ferreira stated: "This is something that we are now aware of, and as time goes on, we will have to figure out how to best approach this discussion moving forward."
He added: "When we took office, Bimini was something we had as a top priority and that hasn't changed. This is a new development that has to be appreciated and addressed correctly, but this doesn't mean that what we proposed for Bimini has not been passed over or set aside."
When asked if the revelation meant the government would have to adjust its plans with respect to the size and scope of the proposed MPA, the Marathon MP said some consideration would have to be given to the fact the property is privately owned.
However, he said the door remains open for extensive discussion with the property owner on the issue.
In June, Prime Minister Dr Hubert Minnis vowed that as the minister responsible for Crown land, he would take back Crown land from people using it for purposes outside the "original intent," particularly those hoarding it for future investment.
However, Crown land is not usually granted with claw back clauses.
Cardinal Bain, spokesperson for Save Our Home, an environmental protest group based in Bimini, said he, like most residents on the island, was troubled by the reports.
The long-time resident of Bimini said rumours that Mr Capo held deeds for significant portions of land in Bimini were always treated as "island talk," but he said, to "read it in black in white today broke my heart".
"We in Bimini have been after the government to resolve this issue for years and to see it come to light like this is devastating. There were always rumblings, but no one had the means to follow-up the trail," he said.
Speaking to The Tribune moments after he left church yesterday, Mr Bain stated: "It is time to rally the troops. We have to enlighten our people here in Bimini and we can't for the sake of our island's future, let this go like that.
"We owe it to those that will come after us. We have to reacquire that land and stop any further development."
Mr Bain continued: "I am asking the government to do all it can to get that land back and protect it. It is important to us that it is done and done fast."