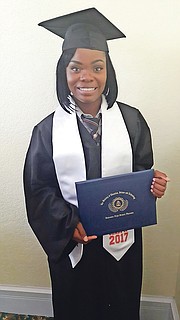 Freshman View: Q & A with a Cutillas Scholar
For more than a decade, it has been estimated less than 50 percent of public school students graduate from high school. Research also shows public school students whose parents did not attend college are directly enrolling in post-secondary education at a much lower rate than their peers.
Lyford Cay Foundations' pilot programme, Cutillas Scholars, was created to revive the dreams of first generation students and mitigate many of the factors that prevent them from attending college.
Through this programme, named for the Foundations' late Chairman Manuel Cutillas, a select group of determined and focused high school students compete for a full scholarship to attend either the University of The Bahamas or the Bahamas Technical and Vocational Institute.
Once named as Cutillas Scholars, students attend months of intensive workshops and individual sessions designed to equip them for college.
Deborah Estimable, was recruited in Grade 11 at Jack Hayward Senior High School in Grand Bahama and is one of the first Cutillas Scholars to attend college. Deborah, who attends University of The Bahamas-North, shared the joys and challenges of being a first-year student.
What did you first think when you heard about the Cutillas Scholars pilot programme?
I always wanted to go to college and at Jack Hayward, they encouraged us to go to college. When the Lyford Cay Foundations came to my school to talk about the pilot programme, they made it clear that only a few would be selected. I didn't think I had a chance, so I thought, "Why bother?" But my mother told me not to downgrade myself and to follow my dreams. I was so surprised when I was selected!
How did you plan to attend college before becoming a Cutillas Scholar?
My plan had been to go to work while attending college. I knew it would take me a long time to graduate, but it was something that I was determined to do. Now, through this pilot programme, I can go to school full-time and just worry about my personal living expenses.
What challenges have you faced on your path to college?
There were so many challenges along the way, including being able to provide documentation that I was eligible to enroll in college. I wanted to give up so many times, but once again my mother encouraged me. She asked me if I knew how many times she considered giving up in life but kept working toward her goals. Eventually, by working with my high school guidance counsellor, I was able to get what I needed and enroll.
What is college like?
I thought college would just be listening to lectures and going home. But it is not like that. At every class, I seem to connect with another student. Professors even stay after class to help you. I don't like writing essays, so English is my hardest class, but I'm making it through with support. I feel like I'm part of a community.
What is it like to be the first in your family to attend college?
Being the first one comes with a lot of expectations. Every night, my family asks me what I learned that day. They want all of the details. They want to see me succeed.
After college graduation, what are your next steps?
I used to want to be a forensic scientist, but now I'm not sure. I picked that career because I didn't think I was sociable and thought I was best suited just to be in the lab. But in college, I've learned that I'm more outgoing than I thought.
The path to college graduation is never easy. What inspires you to keep going?
My favourite quote is from the writer Paulo Coehlo. He says,"When you want something in life, all the universe conspires in helping you to achieve it." Thinking about that quote motivates me.
• "Gain An Edge" is a biweekly collaboration of the Lyford Cay Foundations, Bahamas Technical and Vocational Institute and the University of The Bahamas aimed at promoting a national dialogue on higher education. To share your thoughts, email gainanedge@tribunemedia.net.