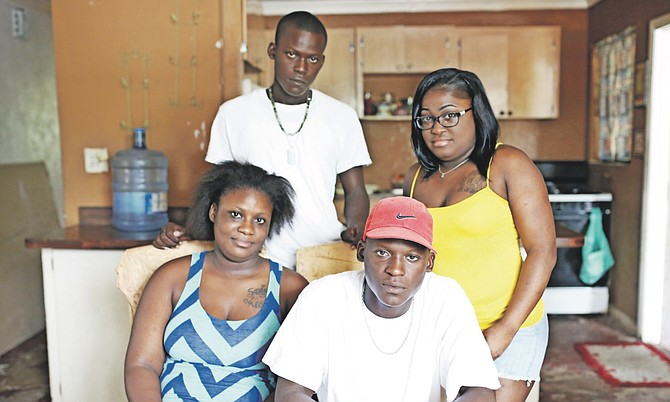 By AVA TURNQUEST
Tribune Chief Reporter
aturnquest@tribunemedia.net
IN the 11 years since they witnessed their mother's gruesome death, the children of former Tribune employee Ericka Fowler say they have been haunted by her tragic killing and the thought that she has been forgotten by the justice system.
Ms Fowler left behind five school-aged children when on August 19, 2006, she became the country's 35th murder victim for that year.
Her youngest child, Lashon Fowler, was nine years old at the time.
In an interview with The Tribune, her children grappled with the responsibility of the state to child victims, and whether closure and healing were attainable after their childhood was shattered by such violence.
Their story unearths questions over the link between the level of support given to victims of crime, and the country's fight against pervading social ills and violent crime trends.
"I just feel like they ain' trying, the courts ain' trying," said Ms Fowler, 20, now herself a mother of two young children. She was nine years old when her mother died.
"I trying to figure out how you can murder someone, you have four witnesses, and it take almost 12 years to process. It just don't make no sense. It's bad (for us), you're still trying to hold, still trying to be strong or whatever, but I don't know, it's just rough."
She continued: "Us, we came a long way because some people would have gone crazy. You see your mommy get kill, and you're only nine years old, in the front of your face and there's nothing you can do about it. You just gotta be strong, pray."
Ms Fowler was 33 years old when she was fatally stabbed. She died from her injuries in the street in front of her Golden Gates home on a Saturday night. Lashon Fowler, her sister Natrell, 14; and her brothers, Tanrio, 12, and Targe, 11, witnessed the crime along with their grandmother, Mrs Rose Fowler. Their eldest brother, Leo Fowler Jr, did not witness the killing.
Leo Fowler Jr was present for the interview with The Tribune, but declined comment.
Ms Fowler's eldest daughter Natrell Fowler said she coped with the horrific ordeal by "shutting down" from everyone, and has remained withdrawn over the incident. She told The Tribune it was hard as the eldest daughter to care for her younger siblings, adding that she didn't benefit from counseling as she was too withdrawn to interact.
"They were so young and you don't know what they're thinking and what they're going through and I have to at least try and hold my head for them," Latrell said. "I just shut down from everyone, up to this day I still don't talk about it.
"I just leave the whole situation alone, sometimes I still cry about it. I know from once we bury her, I've never visited her grave because it's still hard and I don't know how I will take it when I go there."
Tanrio Fowler, 24, said he still has nightmares about the killing.
"Like seriously, I have nightmares about it but I just stay calm about it, pray about it. I feel like the justice system, we have a weak justice system, they say they all about serving, but we wasn't served no justice."
He said: "Something wrong, something slip through the cracks, someone did something. I feel like other families who been through the same tragedy, they may be going through the same thing."
Ripped apart
For Tanrio, his mother's death ripped his family apart, all but severing their bond and setting his siblings on separate, and at times destructive, paths. The children lived with their maternal grandmother for a short period, and briefly rotated between family members before ultimately separating.
Tanrio said the tragedy also stunted his academic future, when he was taken out of school and placed in the Simpson Penn Centre for Boys three years later as an "uncontrollable" 14 year old. He spoke positively about the counseling he received shortly after his mother's death, but noted it ended abruptly and ultimately triggered more feelings of abandonment.
Tanrio said: "I spent two years and three months there (Simpson Penn), I got taken out of school, I don't really have school qualifications based on that fact. I didn't get to graduate, I didn't even attend school up there. They had classes, but I didn't go to school there.
"We did a few counseling sessions (after his mother's death), it lasted about two months and it just stopped and that was helping out a lot because you had positive people and they talked to you, showed you positive things, try to keep your mind at ease.
"I feel Social Services and the counseling, they supposed to stay in our lives – not saying be like our second parents but follow up, check on us, see how we're doing. You can't deal with someone for a short period of time and just let them go. You gone put that person mind in a different place, because you make me feel like you really care, like you really care that I'm hurting, and then just turn a blind eye."
Tanrio admitted that he often grappled with thoughts of retaliation and crime, sometimes on a daily basis, but resisted because he understood the futility of such actions. The same could not be said of his younger brother Targe, who he said was lost to them after the death of his mother. Targe is currently on remand, he said.
"(Targe) take it hard too, since that happened nobody really could speak to him to reach out to him, he just turned to this other life. He take that hard. It did come a time earlier in the years when I was saying to myself and out loud that there ain't no justice, I'm gonna (make) my own justice and then what would be the point of that?"
Tanrio continued: "If I throw my life away, nobody would look at it and say well this bey (sic) do this because he ain' get no justice and he really was hurting, nobody looking into that."
Ms Fowler's children feel as though her death was swept "under the rug," and in the process, the memory of her life was also snuffed out.
"(We lost) everything," Lashon said.
"Mother's Day, every Mother's Day no mommy, nothing, it's just hard. You try not to cry, try not to think about it. Yeah it changed me a lot, it opened up my eyes."
She continued: "The only thing I can say I remember is her taking us to the mall every Saturday, her cooking. Basically the mall, we used to live in the mall, every Saturday we were in the mall, just the way she cared for us, she may have been hurting but she never showed us it. She just did love us, and we loved her. We used to go and take family pictures."
Lashon told The Tribune that her own motherhood has brought some healing, as she has been able to feel closer to her mother as she cares for her children.
"Now I see how it feels to love somebody," Lashon said, "and to make sure you do without to make sure they straight, that's how she used to have us."
Latrell added: "She just was a nice sweet person, she was loving and caring, every mother have her ways, but I just love her for her."
"She was one of a kind, my mommy," said Tanrio, "never do nobody no wrong, she never do no one no wrong. She didn't deserve that. Just the justice part of it nothing came out of it, like she just dead in vain, dead in vain, lay out in the road like a dog in vain, nothing come out of it.
"I is be fighting myself every day, don't change, don't change and commit myself to no violence."
Tanrio continued: "It been hell, everything ain't been good. My old lady she used to keep everything together, she used to keep all of us together. Our family structure broken right now it ain' no telling if it could ever be rebuilt."
In May, a trial date for the matter was fixed for November 26, 2018.