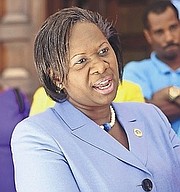 By DENISE MAYCOCK
Tribune Freeport Reporter
dmaycock@tribunemedia.net
BAHAMAS Union of Teachers President Belinda Wilson is happy that Education Minister Jeff Lloyd will create a centre for professional institute training for teachers on Grand Bahama.
During a visit to Grand Bahama on Wednesday, Mr Lloyd told educators that a similar facility as the Mable Walker Institute (MWI) in Nassau would be implemented on the island to assist in the ongoing training of teachers.
He also said the ministry will look into providing scholarships and grants so that teachers can get their master's degrees and PhDs.

"I feel very good about that," Ms Wilson told The Tribune on Wednesday following the minister's address at the annual Ministry of Education Teachers' Enrichment Day held at the Jack Hayward High School gymnasium.

Hundreds of teachers attended the event, which is held every year so teachers can fellowship with each other and get motivated as they return to the classrooms from the summer break.

Ms Wilson said she was happy that the minister mentioned that the government would be expanding the Mable Walker Institute to the Grand Bahama area, and offering scholarships and grants to teachers for professional upgrading.
"I guess, we will have more discussions on what it (the institute) would be named, where it would be located, and how it is going to function," she stated.


Ms Wilson indicated that the BUT has been over the years pushing and agitating for more funds to be allocated for teachers to have scholarships and grants, and also for sabbaticals which have been a part of their agreement for the past seven years.
If teachers are to remain on the cutting edge and provide quality education to students, she said then there must be ongoing upgrading.
"He (the minister) mentioned about there not being a Mable Walker Institute here. Actually, in New Providence we agreed even in the last administration that the MWI in the Big Pond area, if you would recall teachers and students went to TG Glover and other schools in the surrounding area of New Providence, so we agreed that the MWI would be specifically for ongoing professional development and training and continuing education for our teachers," Ms Wilson said.
The BUT president agreed with Mr Lloyd that the educational system needs fixing.
During his keynote address this week to educators in Freeport, he emphasised the need for an improvement in curriculum and technology delivery in schools.
The minister stressed that there has been no improvement in national exam results of the BGCSEs, which remains at a D average. And he said they have to start over at the beginning with the pre-schoolers, and noted that the ministry will soon mandate that all two-and-a-half and three-year-olds attend a Ministry of Education approved pre-school.
He reported that less than 50 per cent of pre-schoolers in the country are in an appropriate approved preschool programme.
In response to that Ms Wilson said: "He made a poignant point because as he said we have to start from the little ones and there is a Bahamian saying, 'bend the tree while it is young.' So if we are able to begin the education of our students from two-and-a-half to three years that's where we are able to mould them. And he spoke about cognitive ability and critical thinking – all of that begins at a young age.
"I must say thanks to the church schools and also the private preschools. I was glad he spoke about approval of those institutions through the Ministry of Education, but I also hope it is not just approval and registration, but I hope it is also going to be where we can assist them with mentoring, and that professional development and training could be extended to those private school operators."
Speaking on the issue of teacher shortages, the BUT president said that her team and minister's team had discussions two weeks ago about addressing that issue.

"That is a major challenge for us this week," she said. "And we have already discussed how we are going to address the shortage in the short, medium and long terms."
She noted that in the primary area they are going to re-engage some of primary teachers who just retired this week for re-engagement of maybe two or three years.
Ms Wilson hopes that within that time they will be able to have a Teacher's Cadet programme extended to Grand Bahama.
With such a programme, she explained that they will be able to know prior to the opening of school two or three years in advance "who is coming out, what degree they are coming out with so we will be able to address the shortage in a more timely and organised manner."
She said the physical plants of schools are another challenge.
"Today we will be doing a tour of schools with the minister and I hoping that going forward there can be some sort of public-private partnership. I hope we can address the condition now so we have a safe learning environment for teachers and students," she said.