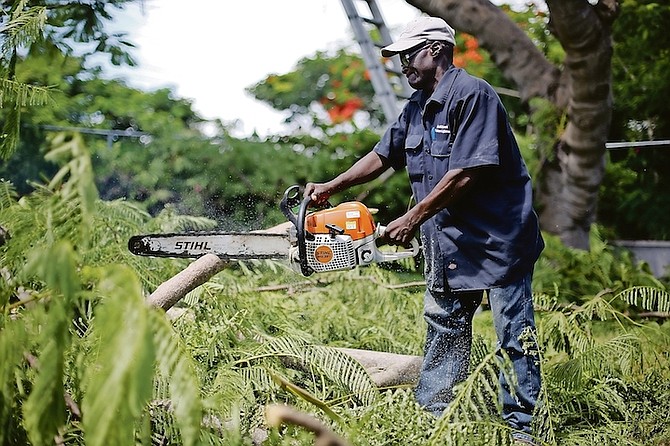 BAHAMAS Power and Light has warned customers in New Providence that they may have service interrupted by planned outages as crews carry out emergency tree trimming exercises ahead of Hurricane Irma's approach.
BPL said if these areas are not addressed, BPL's system could be seriously damaged during the storm.
These areas include: transmission lines that would affect a large number of customers if impacted and high risk and high density areas. These include areas where the infrastructure exists behind properties, or are otherwise difficult to access and lines in routes to vital areas including airports, hospitals and shelters.
Once such critical sites have been addressed, if time allows, BPL teams will begin targeting different communities and individual customers.
BPL has also advised the public that it has initiated its emergency response plan in preparation of Hurricane Irma.
"BPL's hurricane preparedness began earlier in the year and included tree trimming exercises and the procurement of critical parts that may be damaged in the event of a storm," the company said in a statement issued Tuesday. "As such, spare parts have been distributed in both New Providence and the Family Islands. Additionally, capital projects and maintenance activities during the last 12 months placed a great deal of emphasis on making certain that BPL is better prepared to withstand severe weather and to assist in faster service restoration following a storm.
"While much uncertainty remains regarding the exact path of Hurricane Irma, BPL has assembled teams that will be deployed to assist local teams on impacted islands, as well as contacted the Caribbean Electric Utility Services Corporation (CARILEC) to secure additional support, if needed."
After the storm, BPL said local teams on affected islands will immediately begin clearing and clean-up work in advance of the additional resources reaching those areas.
"Moreover, shipping vendors have been secured to transport supplies and other resources; including machinery and vehicles, into any affected island to expedite restoration," the company's statement said. "BPL officials in New Providence and the Family Islands will continue to closely monitor and prepare for Hurricane Irma. We encourage all customers to pay attention to BPL's Facebook page as well as local radio and television programming as we will regularly provide periodic updates with respect to the impact of Hurricane Irma on The Bahamas."