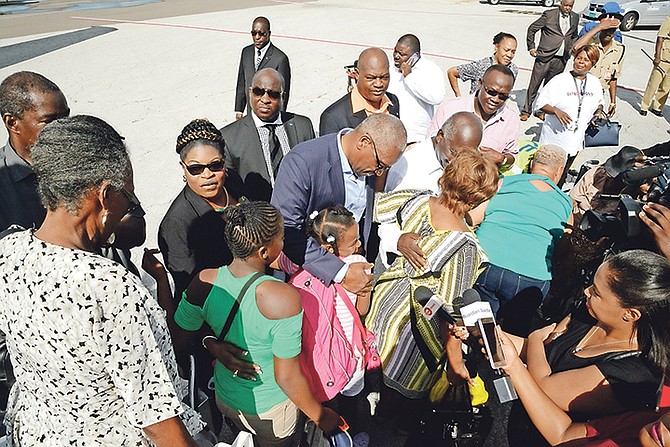 By KHRISNA RUSSELL
Deputy Chief Reporter
krussell@tribunemedia.net
THE costs associated with the largest hurricane evacuation in the country's history is "immaterial" when lives are to be preserved, Prime Minister Dr Hubert Minnis said yesterday as Hurricane Irma draws closer to the southern islands.
The prime minister, who was at the Lynden Pindling International Airport (LPIA) with Official Opposition Leader Philip "Brave" Davis and other government officials to greet the first group of evacuees from Inagua said, "You don't put money on lives."
He was asked to comment on the cost to taxpayers to evacuate residents from Mayaguana, Inagua, Crooked Island, Acklins, Long Cay and Ragged Island.
On Tuesday night, Dr Minnis called these evacuations the "largest" ever seen in this country.
"Money is immaterial when it comes to lives. You don't put money on lives," he said in response to a question from The Tribune.
National Emergency Management Agency (NEMA) officials said yesterday as many as 15 flights from the southern islands were expected.
This is something Dr Minnis applauded.
"What we've witnessed to today is history," he told reporters at LPIA yesterday where he personally greeted evacuees from Inagua.
"We have a monster storm coming through The Bahamas from the southern areas. We've sent out a warning to our residents and as you can see they accepted and most would have volunteered to come out.
"We have organised various planes to evacuate individuals from the southern island, including Ragged Island."
He added: "We have great assistance also from the leader of the opposition and I think all of our hiccups are cleared so I want to thank the opposition leader for offering his support also because this is not a political event. This is a national event.
"it shows the maturity as we move forward. Both political parties get together for one common purpose and that is to save lives and show the Bahamian people that we are one family and continue to work as a unified group."
Mr Davis, who gave input into the evacuation process, agreed.
He said: "Certainly, there are things that are not to divide us. An impending national disaster, threats to our nation's security, threats to our safety and health are not matters that you could approach along party lines."
While the cooperation across party lines was commended, Mr Davis said he still had concerns.
"Well I am concerned that they have not heeded that warning. As I said it's better to be safe rather than sorry. This hurricane is a monster.
"It is packing 185mph winds and Lord knows what devastation will accompany that.
"So if you are still not heeding please take advantage of the efforts now being engaged by the government to bring you to safety and please adhere to the warning and please accept the olive branch being handed to you to make sure that you are safe," Mr Davis said.
Dr Minnis said because it was possible Mr Davis could be the next prime minister, succession planning and co-operation in times like this were needed.
Irma, according to weather officials has winds of 185mph, making it a solid category five storm.
Although many residents heeded the emergency evacuation, not everyone left those islands. However, officials could not say yesterday how many stayed behind.
Officials have said the southern islands will begin to feel Irma's impact by this evening continuing into Friday.
The central and northern Bahamas will also likely experience effects of the storm as it churns through the country into the weekend.