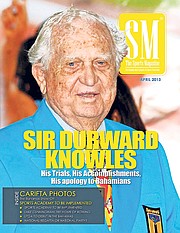 SIR Durward Knowles, the oldest living Olympic gold medallist in the world, will celebrate his 100th birthday. With this occasion, The Sports Magazine - the Bahamas' only complete sports publication - will re-launch the monthly magazine with never before seen stories of who Sir Durward really is.
According to the Publishing Company, Sir Durward has done so much for this country, not just in sports, that a national celebration is just a token of what we should do for him.
Sir Durward, who sailed to a first place finish in the 1964 Star Class Sailing in Tokyo, Japan, will celebrate his 100th birthday on November 2. He was the second oldest Olympic gold medallist living behind Adolf Kiefer, the 100 metre backstroke gold medallist in the 1936 Berlin Games.
This past May, Kiefer died at his home in Wadsworth, Illinois, which is about 50 miles outside of Chicago.
It's no accident that a Ministry of Tourism was started one month after Sir Durward won the country's first Olympic gold medal. Since then so many things have happened for the Bahamas because of the publicity generated by this uncommon sailor.
The Sports Magazine, which did a feature on Sir Durward back in 2013, will publish a never-before seen magazine that will set the standards for magazines to come. It will feature Sir Durward on the cover, but it will include a timeline of his successes and his many trends that he started.
The Sports Magazine, which was produced by Tee Jay Olander since 2012, has been circulating for four years until a decision was made to revamp the magazine. Now it's ready for the re-launch.
A Radio Show called The Sports Magazine and a monthly TV show called The Sports Magazine will also be launched in November. Sports is one of the main catalysts to help get the youths of our nation back on stream.
There is too much idle time for our young people and to encourage them to get involved in sports will be the main theme of The Sports Magazine.
A number of events are planned for Sir Durward during the time of his 100th birthday and all of these events will be showcased in the re-launch issue.
There are plans in the making to erect a life-sized statue in tribute to Sir Durward that will list the many accomplishments of this trailblazer. The goal is to have it permanently erected on Prince George Dock to symbolise how this man brought the mariners to this country first This effort was first started by The Sports Magazine following the 50th anniversary celebration of the country's first Olympic gold medal.
Sir Durward has retired but lives a quiet life at his residence with his wife of more than 66 years, Lady Holly Knowles. They have three children, Jill, Charlotte and Randy.
For more information please go to http://www.sportsmagazinebahamas.com/