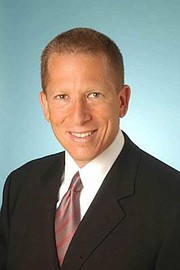 By SANCHESKA DORSETT
Tribune Staff Reporter
sdorsett@tribunemedia.net
PRESIDENT and managing director of the Atlantis resort Howard Karawan has said it is "unacceptable" and "surprising" that Baha Mar would close its doors to "customers and the community" during the passage of a major category four hurricane.
In an interview with The Tribune on the weekend, Mr Karawan said the only reason a hotel should close because of a hurricane is if "the hotel was not built up to standard."
He said when you operate a major hotel on an island you have a "moral obligation" to provide shelter to guests and to support the community.
In preparation for Hurricane Irma that was projected to hit the capital as a category four storm, Baha Mar's guests were told to seek alternative "local shelter" if they were unable to leave The Bahamas, as the resort was temporarily closing its doors until after the passage of Irma.
On Thursday, Robert Sands, Baha Mar's senior vice-president of government and external affairs, told Tribune Business the hotel had already arranged the early departure of "almost 100 per cent" of guests ahead of the super storm's potential strike.
New Providence was spared the brunt of Hurricane Irma that caused catastrophic damage in several Caribbean islands, killing at least 27 people and leaving thousands homeless.
However, the storm brought significant damage to Ragged Island in the southern Bahamas, as well as Grand Bahama in the north.
Mr Sands confirmed that Baha Mar was "suspending services" at "end of business" on Thursday because of Irma's strength and size, describing the storm as an unprecedented event that had never been witnessed before in The Bahamas.
"As an island resort, we see it as our moral responsibility to shelter our guests and be there to support the community as best we can, not to close our doors on them," Mr Karawan told The Tribune.
"We were prepared to keep our guests safe during the storm's passage and the hotel was fully operational. I do not believe you should ever close your doors, you have to support the community and we will help whenever we can. I don't know why a newly built hotel would close. The only time a hotel would close is if it was not built up to standards or the building was not made to sustain potentially bad weather.
"It is unacceptable and surprising to hear that the hotel closed its doors to customers and to the community during a storm," he told The Tribune when asked about Baha Mar's closure.
Mr Karawan said the Atlantis resort housed nearly 1,200 guests and 100 employees during the hurricane. He also said there is no damage to any of the resort's hotels.
On Sunday, Graeme Davis, president of Baha Mar said he is thankful to report all Baha Mar guests were safely evacuated off the island and Baha Mar sustained no damage as a result of Hurricane Irma.
"Our team did an exceptional job of preparing Baha Mar for the storm," Mr Davis said in a statement. "I am personally grateful for their tremendous efforts in executing our emergency response plan, and in ensuring the safety of our guests and associates.
"Now, with the passage of the storm through the Caribbean, we are ready to resume full hotel, casino and retail operations and look forward to welcoming guests back to Baha Mar on Tuesday, September 12. The island of New Providence was spared during this storm, but we know that some of our Family Islands were less fortunate. We are working with government authorities as well as local aid organisations to provide financial and other assistance to support those communities in need and to aid our community here in New Providence."
Last year, thousands of guests at the Atlantis resort on Paradise Island were evacuated from their hotel rooms in preparation for the impact of Hurricane Matthew.
The 2,100 visitors and residents, who were evacuated from the Coral Towers, Beach Towers, Harborside, Ocean Club and The Cove, spent nearly two days in the Imperial Ballroom, which had been sectioned off into dozens of sleeping quarters.
At the time, executives at the hotel said the move was just a precaution to ensure that people were safe during the category three storm.
Guests were provided with pillows, blankets and sleeping mats as well as a complimentary meal and water last year. Guests were also not charged for the two days of Matthew's passage and all meals on those days were also free of charge.