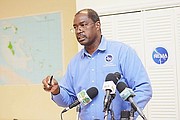 By KHRISNA RUSSELL
Deputy Chief Reporter
krussell@tribunemedia.net
THE Bahamas government is footing the costs associated with returning all evacuees from Mayaguana, Inagua, Crooked Island, Acklins, Long Cay and Ragged Island to their respective homes, National Emergency Management Agency Director Captain Stephen Russell has said.
"We brought them here and we'll get them back to their islands," Capt Russell said at a press conference on Saturday amid some concerns regarding the evacuees' return to their respective islands.
However, their return home is hinged on how soon officials are able to carry out initial damage assessments and the return to the country of various aircraft, including Bahamasair planes. Bahamasair's planes in particular were temporarily housed in Jamaica while Irma made its way through the Bahamas, Captain Russell said during a press conference at NEMA on Saturday.
The national flag carrier resumed limited operations on Sunday.
Capt Russell said: "Here in the Bahamas we know we brought a number of persons here that were evacuated from their respective islands and the aim now is how soon can we get those persons back to their respective islands.
"The government will return them to their islands. There are some concerns as to who will pay for what, we brought them here and we'll get them back to their islands."
He also said: "As soon as we are comfortable that persons are able to go to those districts we will arrange a series of flights.
"We don't want to go transporting persons into the islands if the islands are not in the condition to receive them as it should be. So that's one of our first orders of priority.
"In the event that their homes are not up to the state where we can return them we are looking at some alternative here in New Providence where we can house persons separate and apart from the gymnasiums.
"There was some talk about one of the hotel towers not necessarily Baha Mar but one of the adjacent towers, The Wyndham. (We are) looking at one of those towers to house a section of those persons who are in the gymnasiums."
Ahead of Irma's arrival, some residents of MICAL, Ragged Island and Bimini residents were evacuated into New Providence. Some areas of Grand Bahama were also evacuated into inland communities.
A total of 1,223 persons arrived in New Providence on 15 flights Wednesday and three hurricane shelters were earmarked for these residents. Capt Russell said only 10 per cent of them needed to use these facilities.
On Thursday an additional 21 people from Mathew Town, Inagua and about 300 others from Bimini requested evacuation. A total of eight planes – two to Inagua and six to Bimini – were sent for the evacuations.
At the time, Capt Russell told The Tribune officials were working with a small window of opportunity limiting the number of aircraft that could be sent to Bimini.
Capt Russell said many of those evacuated from Bimini - seniors, disabled, women and children - were expected to be housed at the Sir Kendal G L Isaacs Gymnasium, but that decision was placed on hold after the majority of the evacuees were able to take up residency with family and friends in New Providence.