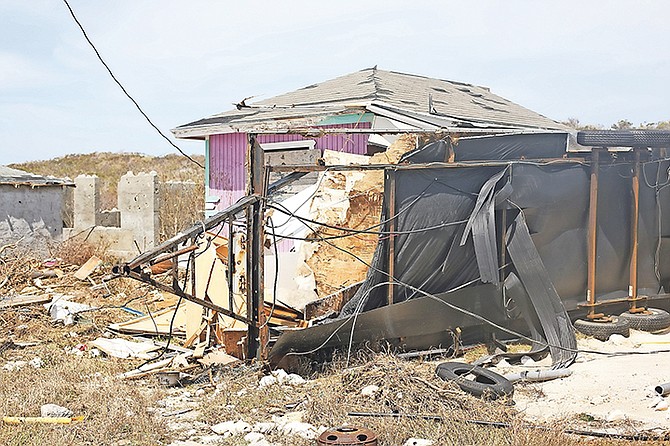 By KHRISNA RUSSELL
Deputy Chief Reporter
krussell@tribunemedia.net
JEFFREY Forbes, 75, was reduced to tears yesterday as he spoke of the damage left behind by Hurricane Irma in Salina Point, Acklins.
Mr Forbes, a former lighthouse keeper, said he hardly wanted to look around the settlement because the sight was "too devastating".
If he had his way, neither he nor his wife, would have stayed during the monster hurricane. But Mr Forbes said they were just 15 minutes late in arriving at the airport where residents were being evacuated last Wednesday and unfortunately they were left behind.
Faced with no choice, he said they rode the storm out in a nearby shelter in Spring Point, Acklins.
But through the ordeal, which left them without electricity or running water, Mr Forbes said he still believes "God is good".
Diana Forbes, a mother of ten, who has lived on the island since 1978, said she believed it was God's will for her to remain there as a shelter manager.
Acklins faced hurricane force winds early Friday morning.
She said: "It was great because guess what? I know the hands of God (were) with us and (the wind) it blows and it blows and it blows, but while he was blowing we were on our bended knees giving God thanks. We said if we do not live, we'll be rested in the hands of Jesus and we ride the storm out."
Inside the shelter were 15 adults and two children.
Ms Forbes said had she not gone to the shelter, she has no doubt everything would have still turned out okay.
"I would have made it because it's like the Lord had it in me not to move from this island and guess what? If I did move and he did want me to stay something else could have been happening. But I give God thanks this morning for his goodness and his mercy.
"My home is standing. Water went in it maybe through the doors because look like the wind was blowing off the door. If I did meet my house on the ground I would have lift my hands and say Lord I thank you. I was gonna tell him thank you for his mercy. Everyone is alive and well.
"The storm has passed and all we got to do is get to work and start cleaning up the community and get things together. We have no light, no water, everything is off but I still give God thanks because I'm an island woman," Ms Forbes said.
Prime Minister Dr Hubert Minnis, a government delegation and the media toured Acklins, Ragged Island and Crooked Island yesterday to get a firsthand account of damage left behind by Irma.