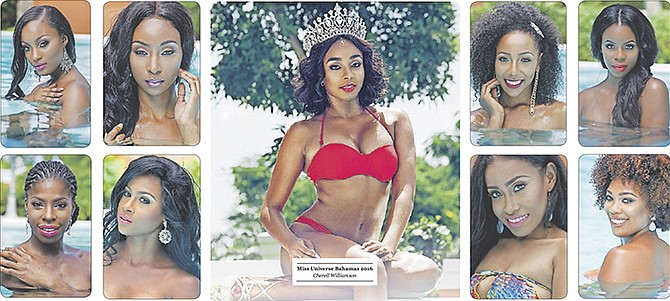 By ALESHA CADET
Tribune Features Reporter
acadet@tribunemedia.net
WHILE ORGANISERS appreciate the physical beauty of the new Miss Universe Bahamas delegates - this is easily dominated by each contestant's confidence, femininity, grace, fitness, compassion, intelligence and determination to claim her place in the world.
The Miss Universe Bahamas Organisation is determined to dispel the perception that pageantry is superficial. The eight young delegates are described as positive role models, quietly impacting the lives of many in their local communities and as far as Africa.
"These attributes are on the stage of pageantry, on the theatre screen, in the boardroom, classroom, hospital, government, courtroom, politics and churches," said Loretta Robinson-Thomas, National Director for Miss Universe Bahamas.
Held under a new licensee, Shimmer And Sparkle Lifestyle Limited, and under the theme Women Empowerment Through Education - the 54 Miss Universe Bahamas pageant formerly scheduled to take place last Saturday is now set to take place on Sunday, October 1 Paradise Island Atlantis Theatre, Coral Towers, beginning 8 pm. All tickets previously sold will be honored.
After having postponed due to Hurricane Irma, the eight women competing include: Danielle Gaitor, Colina Kenny, Gabrielle McIntosh, Ashley Hall, Yasmine Cooke, Azaria Clare, Tiasha Lewis and Sasha Anderson who have all kept with the empowerment mission of the pageant by volunteering their time and efforts to assist with hurricane shelters in New Providence and Grand Bahama.
"I received an email from the Miss Universe organisation saying we actually turned our lemons into lemonade. We volunteered our services because it was a way of just sharing at a time when so many persons were displaced from their homes on the Family Islands, leaving their personal belongings. We were at the New Providence Community Center not just to welcome them but to also sit and listen to their stories," said Ms Robinson-Thomas.
Ms Robinson-Thomas said the pageant's new owners William Morris Endeavor-International Management Group ( WME-IMG), are advocates of women empowerment, providing women with the tools to succeed through education, entrepreneurship and humanitarian endeavors. WME-IMG is known as a preeminent international sports and entertainment representation firm.
"Our new owners are strong advocates of women empowerment and that is what I know of them. In keeping with our organisation, we have been able to attract not only beautiful Bahamian women but Bahamian women of substance. They are accomplished, pursuing education and focused on professional careers. Our delegates, I can truly say that we are really proud of them and they have put themselves forward to represent the Bahamas. That is the structure of the new Miss Universe Bahamas, that is our platform and our mission," said Ms Robinson-Thomas.
She is certain the audience can look forward to a full and exciting pageant on the night of October 1 with a costume extravaganza expected to kick off the highlights.
"This is going back to when Miss Bahamas committee first began its pageant presentation. We are also going back to the days when the swimsuit and evening gowns are all judged on the same evening of the pageant. There is no preliminary judging, it will all unfold before your eyes, live. That aspect is also a part of a new brand and showcase. As the Director I am proud of our delegates, their accomplishments and the compassion they exhibit. I believe we are qualified to compete with any candidate who registered to participate in the Miss Universe Pageant. What excites me most is knowing that we are going to compete for that Miss Universe title, and we are going to see the Bahamas and a young Bahamian woman at her best," said Ms Ms Robinson-Thomas.
Tickets for the 2017 Miss Universe Bahamas pageant are available at Café Channing Noelle and Shimmer And Sparkle, located at Caves Village Plaza, West Bay Street also at Platinum Bride Couture, Parliament Street, Bayparl Building
Telephone contacts are 327-3899 or 356-5080. On the heels of last year's sold out event at Albany, organisers encourage persons to collect reserved tickets as soon as possible.