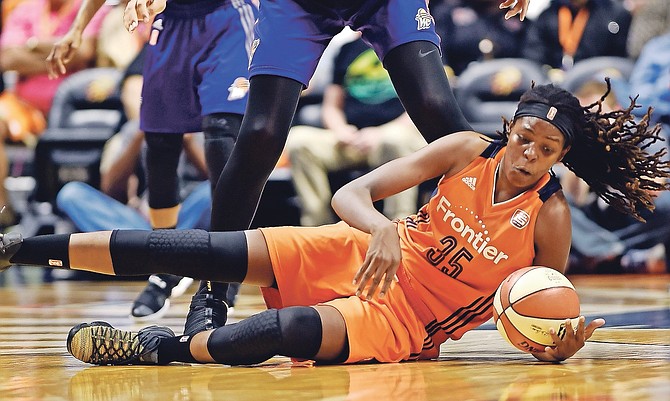 By RENALDO DORSETT
Tribune Sports Reporter
rdorsett@tribunemedia.net
It was a bittersweet weekend for Jonquel Jones as she was honoured by the WNBA just hours before her Connecticut Sun were eliminated from the playoffs.
Jones added another postseason accolade when she was named the WNBA's Most Improved Player of the Year. The award came less than a week after she recicved the same honour from the Associated Press.
In honour of being named the WNBA Most Improved Player, Jones will receive $5,000 and a specially designed trophy from Tiffany & Co.
"Obviously this is an individual award, but without my teammates there is no way I would be able to do this. My teammates have believed in me, they've been in my ear challenging me on the court, in practice and I appreciate you all because we are a family we are a sisterhood," Jones said as she accepted the award.
"To my coaches who spent endless time trying to make us better, I appreciate you. The good thing about the Most Improved Player is that it factors in two years and I think last year as rookies we all didn't do what we wanted to do or didn't get the chance to be on the court as much and I think for us coming into our second year all of us have improved so much and when I get this award I think about our entire class because it does represent us as a whole.
Jones received 32 of 40 votes from a national panel of sportswriters and broadcasters.
Los Angeles Sparks guard Chelsea Gray finished second with three votes. San Antonio Stars center Isabelle Harrison and Chicago Sky guard Alie Quigley tied for third with two votes each. Washington Mystics center Krystal Thomas received one vote.
Jones averaged 6.8 points and 3.7 rebounds as a rookie last season. She received one vote in the 2016 WNBA Sixth Woman of the Year tally to finish in a 5-way tie for fifth place. After a dominant offseason where she led her Samsung Life Blue Minx to the Korean Basketball League title, many WNBA pundits and the Sun front office felt Jones was primed for a breakout season.
In addition, Jones got the opportunity for increased playing time when incumbent starter Chiney Ogwumike suffered an Achilles injury and was ruled out for the entire 2017 season.
"I definitely think opportuntity was a big part of it and I definitely think my coaches had been challenging me a lot. They saw a lot in me coming into the season. Coach Curt hit me up when I was in Korea and told me to expect a larger role and more minutes this year so mentally I had to be prepared for it," she said.
The second-year pro is the third Sun player to earn the honor since it was first presented in 2000.
She set WNBA single-season records for rebounding average (11.9) and total rebounds (403), surpassing the marks established by Tina Charles in 2010. Jones also set a WNBA single-season standard for total defensive rebounds (280), breaking the record set by Breanna Stewart in 2016.
Jones notched a double-double with 19 points and 15 rebounds in the Sun's 88-83 loss to the Phoenix Mercury at the Mohegan Sun Arena in Uncasville, Connecticut.
She produced the second most rebounds ever in WNBA playoff debut.
Head Coach and General Manager, Curt Miller, who was also named WNBA Coach and Executive of the Year, said despite the disappointing playoff exit, the building blocks for future success are in place.
"It was a great game. I'm so proud of the start our team had, we had not been having great first quarters as of late but they came out focused with tons of energy, but we got the game up-tempo like we wanted and it was an incredible first half. You got to give Phoenix a lot of credit, we wanted to their legs away from them and keep the game up-tempo as much as possible but they were the ones that made big shots in the fourth quarter. They made three threes in one stretch that I thought was the backbreaker and that was something we were trying with our tempo and pace to take away," he said, "We lost but I feel we won at the same time because we are starting something very special here, this year is only the beginning and we look forward to the future."