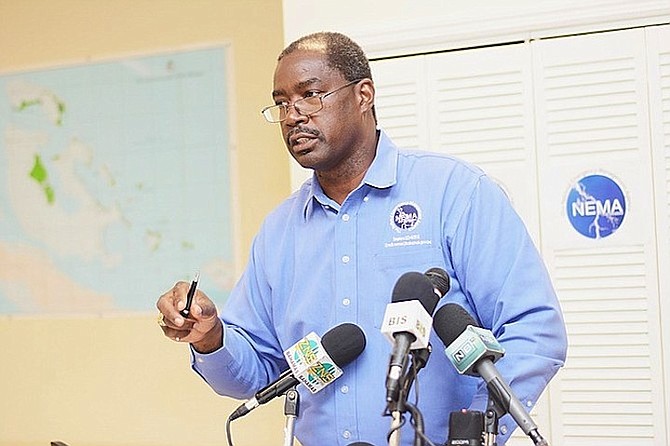 By KHRISNA RUSSELL
Deputy Chief Reporter
krussell@tribunemedia.net
WHILE various government agencies have already started to assess Hurricane Irma's damage in the southern Bahamas, it is still too early to put a price tag on the devastation caused by the monster storm, National Emergency Management Agency Director Captain Stephen Russell said.
Capt Russell told The Tribune yesterday that NEMA's first priority has been to return persons who were evacuated back to their homes and ensure that they have basic supplies. This is outside of Ragged Island, which has been deemed uninhabitable at this time.
NEMA will also execute plans to get teams from utility companies into islands where there are no essential utilities, he said on Monday.
To do this, Capt Russell said officials may have to set up a tent city for various agencies to work free of concern for living accommodations.
Asked whether officials had placed a figure on the damage caused by Hurricane Irma, Capt Russell said: "Absolutely not."
"The first order was we are going to get some people back to the islands tomorrow (Wednesday) and we hope to take those persons back with some care packages," Capt Russell said.
"We have already started sending supplies to Inagua and the other islands from NEMA's stock. So the process started. So we'll just get people back into the islands and then the supplies will come.
"Those who were evacuated they want to get back so they can see the condition of their homes and then we can go from there. The aircraft that are going down we hope to take some basic care packages with them.
"We are working in tandem with the Bahamas Red Cross," he continued.
"So we are going to make sure that they have some basic food supplies. Other things are in motion right now to get supplies in to the areas that are necessary. I don't want to send the stuff there and the people are still on New Providence. So we are trying to get items to go with them as they go," he said on Tuesday.
In an interview with reporters Monday night, Capt Russell said after the initial assessments, Bahamas Power & Light as well as Water and Sewerage would be mapping out their respective plans to begin restoration.
"But from NEMA's stand point we are going to see how we can sent up a tent city for the various agencies working in tandem with the Royal Bahamas Police Force with their container city so corporations can come in and go about their business and not worry about a place to stay. If the Defence Force's container city goes into the area, they can provide for the basic needs," he said.
The work of the initial damage assessment teams is critical in disaster management, as their assessments will be used to help provide government planners with a road map towards determining the appropriate course of action to be taken on the path to recovery, a press release from Bahamas Information Services (BIS) said yesterday.
While Acklins and Crooked Island received some damage from Irma last week, Ragged Island was decimated by the hurricane.
Prime Minister Dr Hubert Minnis and a team of officials on Monday visited each of these islands and for the first time saw the devastation.
Ragged Island was the final leg of the journey for the delegation.
"It was clear to see from the air upon approach, that the island-community, had been ravaged by Hurricane Irma," BIS said.
"Downed power lines and poles snapped in half by hurricane-force winds still littered the community Monday as the prime minister and his delegation toured the island to assess and evaluate the damage brought on by Hurricane Irma.
"Government buildings (school, police station, clinic, post office), homes and businesses were either flattened by the storm or severely damaged. Many of those that were left standing were only a shell, having had doors and concrete walls torn out; roofs torn off, and windows blown out.
"Communications are also out due to the extensive damage caused to the island's infrastructure.
"Navigating the community on foot and in the few vehicles that survived Irma's wrath, proved a bit tricky as assessment teams and members of the delegation had to manoeuvre around large electricity poles and wires that blocked pathways."
After his walkthrough of Duncan Town on Monday, Dr Minnis said health and safety conditions on the storm-stricken island will only continue to deteriorate, as he urged the 18 remaining residents on the island to evacuate in the aftermath of Hurricane Irma.
A flight will be sent for the Ragged Island residents today to bring them to New Providence.
NEMA organised a flight into Salina Point, Acklins on Tuesday, which took men from the local community to the island to help with the necessary clean-up.
Ragged Island will receive heavy-duty tarps to help to preserve what is left of standing structures and to salvage any remaining valuables.
The Caribbean Development Bank has given $200,000 to aid in these recoveries.
Also, teams from the United States Agency for International Development/Office of Foreign Disaster Assistance (USAID/OFDA) have offered assistance in heeding NEMA's requests for additional heavy-duty tarps, water containers, blankets, and other essentials. NEMA will also receive assistance from the Chinese Embassy and US Northern Command.