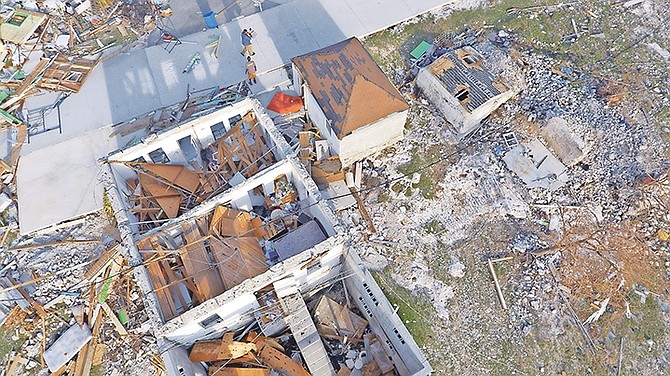 By KHRISNA RUSSELL
Deputy Chief Reporter
krussell@tribunemedia.net
RESIDENTS of Ragged Island are determined to go back home immediately and rebuild despite the decimation left from Hurricane Irma, with the community's chief councillor saying it is "foolishness" for anyone to consider the island uninhabitable.
Ragged Island natives have said they have nowhere else to go and do not want to remain in New Providence, an island rife with crime and violence.
Some residents believe they can safely stay on the island in the structures that were not destroyed and want to start reconstruction as soon as possible.
Chief councillor Demison Nesbitt, who has been staying at a shelter in Nassau since last week, said he doubts any of the residents still on the island would choose to evacuate rather than rebuild the area.
He told The Tribune: "It's foolishness. We have decided we are going back home to rebuild.
"Ragged Island is not a bunch of unknown people.
"If the prime minister don't want them there, them people ain't gonna leave because that's their home. A little bit of cleaning up and other stuff what may seem like a lot, Ragged Island people will handle it.
"Ragged Island people been through this before and we will get it together," Mr Nesbitt said.
Attorney Wayne Munroe, QC, has also criticised Dr Minnis' call for residents of Duncan Town to evacuate in the aftermath of Hurricane Irma as he questioned the conditions which led the government to deem Ragged Island uninhabitable.
Mr Munroe, who was born on the island, took issue with this, adding he and a group of Ragged Island natives are also organising clean up and rebuilding efforts despite any pronouncements made about the island's condition by the government.
These efforts will begin as early as Thursday when the first group of people arrive by mail boat to begin cleanup. Ed Curling, a local business owner, told The Tribune yesterday he will ensure his heavy equipment fleet aids in these efforts.
On Monday, after seeing the decimation for the first time since Irma battered the nine-square-mile island, the prime minister said health and safety conditions will only continue to deteriorate.
The island's physical condition, exacerbated by the smell of rotting animal carcasses and the destruction of all essential services, led Dr Minnis to strongly urge those still on Ragged Island to leave until the small community can be restored.
Yesterday, Mr Munroe questioned the logic of asking people to leave the island.
"To give you some context, the whole island of Ragged Island is nine square miles - three miles by three miles, so it's not very big," Mr Munroe told The Tribune. "The settlement itself is in an area that would fit probably into Arawak Cay and Long Wharf to the Hilton Hotel. That's not very big. How long does it take you to get that area liveable?
"It must be liveable because people are living there and more people went up there today (Tuesday) to resume living there and more people flew up there today to resume living there and more people are going up on the weekend to resume living there.
"While you don't have running water, you have to go to the well to tote water, but before I left Ragged Island I used to tote water and we had outside toilet although I am understanding that the toilet at the old Anglican church is functioning and even if it's not, the old pits are there.
"When you don't have electricity, you have a generator and they have generators so I don't understand what's unlivable about it," Mr Munroe said.
"If animals are dead you collect them up (and) you either bury them, burn them or put quick lime on them. Animals die after every storm so I do not quite understand what is unlivable about Ragged Island.
"They say no police is there. We don't need police because we don't be murdering one another. I am trying to find out what in this small area of settlement makes it unlivable.
"After Hurricane Matthew hit, the Marshall Road area (in New Providence) was hit hard, was anyone evacuated or they lived there while power was restored? When Joaquin hit Long Island some people came up when their homes were destroyed, but they were not evacuated.
"I am just at a lost as to what makes Ragged Island different," Mr Munroe said.
Another Ragged Island resident currently in New Providence said yesterday she had no desire to live in New Providence, pointing to high crime numbers in the capital.
"We don't have to deal with killing and stealing at home," she said. "In Nassau we have to worry about something happening to me or my family."
Meanwhile, Mr Curling told The Tribune yesterday he and other descendants of Ragged Island were committed to rebuilding the island.
Mr Curling's business is based in New Providence.
He said: "Ragged Islanders are going to clean up Ragged Island and with the government's help we are going to rebuild.
"The prime minister is right when he said unlivable because of the environment. You have no doctor, no nurse, the scent of dead animals and there is water contamination. We don't want to risk lives to the environment when we don't have the proper health care," Mr Curling added.
"So the government will spearhead an effort. After they move who wants to be moved and the others stay at their own risk, we will do what we have to do.
"I hope with God's help that the prime minister will help us to build Ragged Island to be a little city to be admired in the whole world," Mr Curling said.
An estimated 60 to 70 people live on Ragged Island and most of them evacuated ahead of the category five storm.
About 18 people remained on the island as Irma barreled through.
The government is sending a plane today to evacuate the remaining residents.