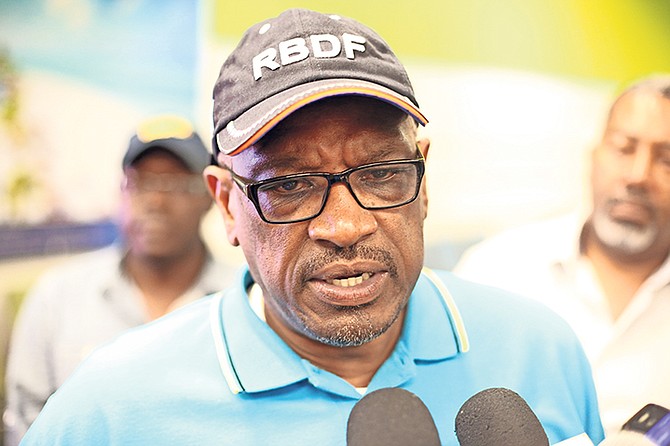 By KHRISNA RUSSELL
Deputy Chief Reporter
kvirgil@tribunemedia.net
DESPITE assurances legislation to establish mandatory evacuation procedures would be tabled this week, Prime Minister Dr Hubert Minnis told Parliament yesterday the government has decided against this and will instead undertake public consultations on the proposed bill.
The legislation, Dr Minnis said, will also be circulated to the Official Opposition.
As he wrapped up his summation of the government's preparation and work in the aftermath of Hurricane Irma and how the country fared during this storm, Dr Minnis said: "I know that we had promised to bring an evacuation bill to Parliament at this time.
"(But) after a lengthy discussion last night, we decided that such a bill should be circulated to the public and the opposition in keeping with transparency and accountability, after which we will bring such a bill here to this Parliament."
On Sunday, Dr Minnis told reporters it was his intention to table the bill when the House resumed following its summer recess. Yesterday was Parliament's first meeting after this break.
At the time, he said: "I've spoken to the attorney general and they are drafting it. I think it's essential we have mandatory evacuation. Not only that but we must now have a manual for evacuation so we have guidelines; guidelines for category one, for category two which may not require evacuations.
"A requirement may be category four or five; that's things that have to be discussed. We've learned quite a bit from this procedure therefore our manual will tell us exactly how individuals are dispatched, how people are collected, how facilities are set up, etc."
Ahead of the category five storm making landfall last week, 365 people were voluntarily evacuated from Bimini, 40 out of Ragged Island, 163 from Mayaguana, 106 from Crooked Island and 318 people from Acklins.
Scores of others remained on their respective islands and were at risk of serious harm or death, particularly those who stayed in Ragged Island, which was decimated as a result of Hurricane Irma. Despite damage to homes and infrastructure, there were no deaths or serious injuries.
Official Opposition Leader Philip "Brave" Davis said on Sunday he supports legislating mandatory evacuation procedures, but added that it was unnecessary to evacuate Bahamians from danger zones ahead of Hurricanes Joaquin and Matthew when the Progressive Liberal Party was in power, as the Minnis administration did prior to Irma's arrival.
In 2015, Hurricane Joaquin in particular devastated some of the same southern islands from which people were evacuated before Irma, with many residents complaining two years ago that they were unprepared for the storm.
That year, former Prime Minister Perry Christie said the Office of the Attorney General had drafted an order empowering the director of the National Emergency Management Agency to declare a state of emergency and instruct mandatory evacuations. The idea resurfaced in 2016 after some residents in southern New Providence resisted calls to evacuate flood zones, prompting officials to perform emergency rescues once Matthew hit.
"Joaquin and Matthew were not as dangerous as this hurricane," Mr Davis told reporters Sunday.
"What one has to look at in each category is the estimate of what kinds of damage may happen. In category one certain damage may be sustained; in category two or four (other kinds) of damage may be sustained so it depends on the category and the level that's coming. No doubt the decision to evacuate (this time around) was not made by the prime minister alone. That information would've been gathered from the technical people. No such recommendation was made from the technical experts with respect to Joaquin and Matthew. Had it been made the decision would've been supported."
During mandatory evacuation procedures, law enforcement officers will be empowered to physically remove people, Mr Davis said. People could also be expected to be charged with an offence.