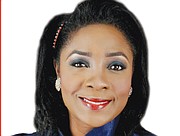 By DENISE MAYCOCK
Tribune Freeport Reporter
dmaycock@tribunemedia.net
SOCIAL Services and Urban Renewal Minister Lanisha Rolle visited the tornado-damaged areas in Grand Bahama and urged people to be very "sensitive" and understanding to the victims who suffered significant damage and what they are going through at this time.

She wanted persons affected to know that the department cares and is there for them during this difficult time.

Ms Rolle and Ms Lillian Quant-Forbes, deputy director of Social Services, were among the delegation that travelled with Prime Minister Hubert Minnis on Thursday to Bimini and Grand Bahama.
About 28 families have been affected on Grand Bahama as a result of a tornado as Hurricane Irma passed west of the northern Bahamas unleashing ferocious winds and some rain.
Five homes in the Imperial Park Subdivision were destroyed. Several units at the Imperial Gardens Apartment Building and about ten businesses in Freeport were also damaged.
Some of the victims were concerned and upset about passersby coming into the area just to take photos of the damage and post them on social media.

Minister Rolle said: "There are some that were affected and others that were not, and I think it is very important at this time for us to be sensitive, to realize it was not me today, but it could be tomorrow. Therefore, we must be there for each other."

She said the Ministry of Social Services is concerned and is there to assist Bahamians who were affected.
"We want persons to know that we care and that we are here for them, and that is why we are here and a part of the assessment team to make sure that individuals know that Social Services is onboard.
"We empathize and see the need, and are assessing the needs and assisting as much as we can, where we can."
Ms Rolle also said: "The important thing that we must remember is that this is all of our problems and all our challenges, and all of our success. And so together as a people we will rise again out of these various situations."
Paula Marshall, assistant director of Social Services in Freeport, had reported that officers met with the victims and had compiled a list.
She stated that many of the victims have indicated that they do not want to leave their homes.
However, she noted that arrangements would have to be made to relocate at least one family whose house was totally destroyed.
"They are going to need to have accommodations until arrangements can be made for that particular facility to be rebuilt. Whether that is going to be done by the government, we don't know at this time, but in the meantime, they need to be able to function," said Mrs Marshall.
She noted that social services cannot force people to leave their homes and so some have decided to stay, and others have made arrangements to stay with family and friends.

She noted that Social Services would definitely help those affected regarding assistance with food, clothing, toiletries, and blankets.
Ernestine McPhee, a resident of Imperial Park whose home was damaged, had expressed her frustration with the process when she went to seek assistance at the Department of Social Services.
McPhee, whose adult son is disabled and diabetic, told Prime Minister Dr Hubert Minnis that the process was very stressful. "I was there from 9am until after 1pm; I missed a whole day at school at the Social Services just to give them (some) information- that's what you have to go through."
She told Dr Minnis that she was in need of a generator and wanted to know if she could be provided one from NEMA to keep her son's insulin cool.
McPhee said their home is insured and was worried about her elderly neighbour whose home was not insured, but was destroyed.