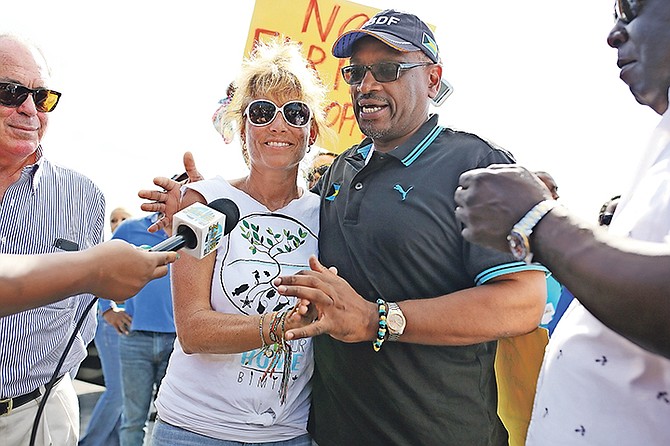 By RICARDO WELLS
Tribune Staff Reporter
rwells@tribunemedia.net
THE Bimini leg of the government's Hurricane Irma assessment tour hit a small snag Thursday as a handful of residents used the visit to urge the Minnis administration to take the environmental threats on that island seriously.
The government's tour of that island yesterday was greeted by various signs and placards that raised concern over longstanding threats, and equally alarming new threats, such as the damage suffered by Resorts World Bimini's floating dock during the storm's passage last week. The damage has left mounds of Styrofoam floating in the ocean near the resort.
The government delegation, which included both Prime Minister Dr Hubert Minnis and Opposition Leader Phillip 'Brave' Davis, was noticeably missing Environment Minister Romauld Ferreira and West End and Bimini MP Pakesia Parker-Edgecombe.
However, despite the absence of these two key stakeholders, representatives from the Save Our Home protest group took their concerns directly to Dr Minnis.
Jenny Cook, a spokesperson for the group, cornered Dr Minnis and detailed how decades of mismanagement and poorly sanctioned developments led to the destruction of 450 acres of mangroves along the coastline of northern Bimini.
Ms Cook stressed to Dr Minnis that flaws with RAV Bahamas/OPAC and its partner the Genting Group, led by Gerardo Capo, allegedly resulted in a critical environmental issue developing on the island.
She said: "Storm surge taking out people's dock all along the bay and part of the bay, particularly up here, used to be a part of the protection area for the island but due to the resort (allegedly) ripping out 450 acres of mangroves we now have very little hurricane protection for the island.
"So a lot of people they had a lot of surge damage; dock gone, homes flooded as a result of no more mangroves here. I am a part of Save Our Home for Bimini and we are trying to protect the island here. We are trying to get the marine protection area approved," she added.
In a separate interview with The Tribune yesterday, both Mr Ferreira and Mrs Parker-Edgecombe acknowledged ongoing environmental issues on the island and noted the government's intent to ensure the Styrofoam crisis is addressed in the short-term.
For her part, Mrs Parker-Edgecombe stated: "We are concerned and are trying to put the resources in place to address the issue. We are looking into this, and it is our hope that we can get this resolved soon, rather than later."
Additionally, Mr Ferreira, an environmental attorney in his professional life, said while the immediate resolution in Bimini is critical, in the long-term the government must find a way to structure the legislative intricacies needed to adequately "protect and secure the sector".
"There are so many legislative gaps that need to be filled in and we have to, it is mandatory that we do this as soon as possible. That's why my reform talk is so important," he contended.
"We're looking at this from an impact on environment standpoint, which is great, but at the very same time you have to look at all the steps that leads to that end and find ways to address all these steps in a way that they guard against major issues," Mr Ferreira added.
To further explain his sentiments, Mr Ferreira presented an analogy of a fuel spill at the BEC Clifton Pier power plant.
He claimed any spill reported at the plant would be treated, at the time of being reported, as an environmental issue.
However, he noted that at that point, the damage would be "already done" and "blame would be placed on a ministry that could only clean up."
Mr Ferreira said the legislative framework needed to police and aid in prevention, is split between several ministries and industry portfolios throughout the government and corporate Bahamas.
"The fuel belongs to someone, that's an industry that is governed outside of the Ministry of the Environment. As you go down the line, there is so many other official spots that you would have to work through and address. And then with that, one has to be careful in how they manoeuvre these areas.
"What I want to do is to pull all of these sectors together to work from a central, environmentally friendly area. It continues to be my hope that this will be the Ministry of the Environment. But the first step will be drafting the essential, preliminary framework; then engaging all stakeholders inside and outside the government, and then finally bringing this working concept to Cabinet," he concluded.
On Wednesday, Denver Stuart, a life-long resident of Bimini, insisted things on the island were set to go from bad to worse following Hurricane Irma, referring to slow clean-up response for the mounds of Styrofoam in Bimini's waters.
He told The Tribune: "This has been a problem for days now. I've seen it since Sunday. As soon as you get out on the water you see the pieces of foam just floating around. This is not good because the birds are eating it, the fish are eating it and even the turtles are eating the Styrofoam."
Mr Stuart said the people of Bimini have long been an environmentally conscious society that treat their surroundings as an extension of their homes.
"They're supposed to layout a silk curtain to catch it from day one, but they didn't," Mr Stuart claimed. "Now, it's floating everywhere and it's causing a big issue. This is an important marine area."