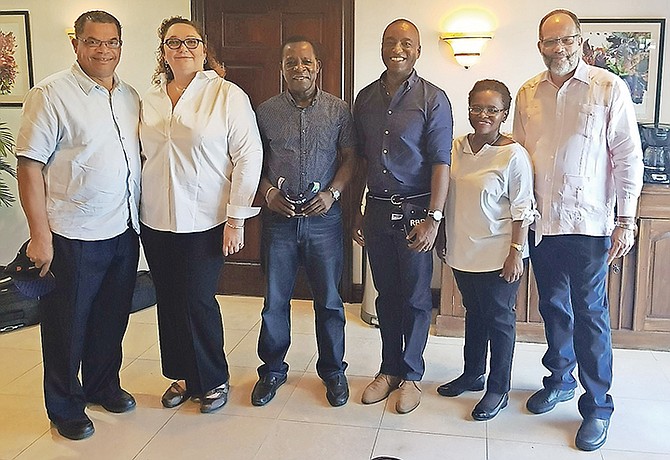 By RASHAD ROLLE
Tribune Staff Reporter
rrolle@tribunemedia.net
EVENTS like Hurricane Irma, which devastated Ragged Island as it moved throughout the region this month, have left no doubt humans are living through a period of climate change, CARICOM Secretary General Irwin LaRocque said Friday after landing here.
CARICOM officials visited Ragged Island on Saturday to observe the damage there from Hurricane Irma. They also held discussions with Prime Minister Dr Hubert Minnis about how CARICOM could be helpful to this country in the wake of the storm.
"One of the things that the heads of government have mandated us to do is organise for all of the affected states, a donors' conference that would help bring resources for the long haul to rebuild," Mr LaRocque told The Tribune on Friday. "It's not going to be a short-term thing, but long-haul rebuilding, building smarter and more resilient. Already we've begun discussing with at least one international partner that would help us to get this thing going. We have to plan for it so it's one of the discussions we'll have here with the prime minister.
"Climate change is here," he said. "These are traumatic events that leave no doubt in our minds that we are living through climate change."
Keith Mitchell, the prime minister of Grenada and current chairman of CARICOM, said the organisation's heads came here to show solidarity with this country, having visited other hard-hit island nations like Antigua and Barbuda; Turks and Caicos, Anguilla and the British Virgin Islands.
"In your hour of need we feel compelled and very happy to respond to what is taking place here and to offer all the support CARICOM could give in this difficult time," he said.
He reiterated a longstanding CARICOM concern, that multilateral financial institutions and other development partners which use per capita income to determine a country's level of development and consequent need for grants and concessional financing are using a flawed formula, one that fails to provide a true picture of a country's economy.
"…What we have to do in every forum," he said, "is to restate the position we have been taking: to assess countries because on so-called per capita, that formula is a farce because in one stroke of the pen, you can have so many disasters that can take years to recover from. Especially in the Bahamas, even if you have one island spared, so much destruction can take place with the many islands you have."