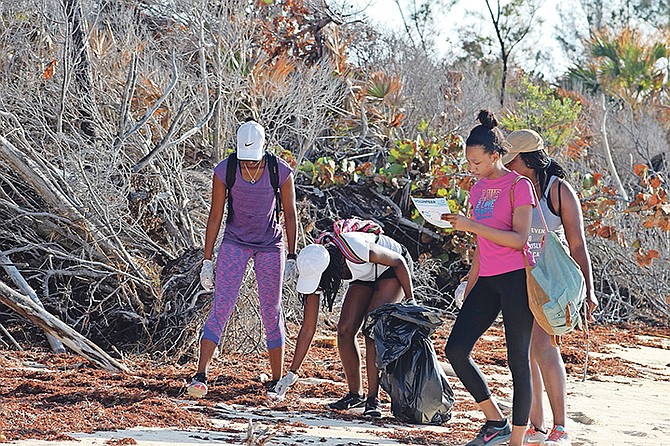 ON Saturday, 28 students from Lucaya International School (LIS) on Grand Bahama Island and six Earthcare volunteers arrived at Gold Rock Beach International Coastal Clean-up Day (ICC) at Lucayan National Park.
Gail Woon, zone captain for Gold Rock Beach, said she was very happy to have worked once again with the students and volunteers.
A grand total of 822 pounds of marine debris was collected, recorded and bagged for collection for the Gold Rock Beach zone.
"All students took great satisfaction in seeing the beach cleaned up, collecting some unusual items," a press release said.
"Litter is a major environmental problem. Most of the marine debris collected was as expected; fast food containers, beverage bottles and plastic bags; none of which are biodegradable and all of which, with a little effort, could have been carried to an appropriate dumping point. All students agree that the next step in their efforts to keep the beaches clean and pristine must focus on a more powerful public awareness campaign to try and eliminate what has become a serious blemish to our sea shores."
The most unusual item found was a 300lb piece of rope belonging to a very large vessel, possibly a cruise ship.
Matthew Lowe, whose group was part of the cleanup and helped to unearth the rope, said: "We found a piece of rope that was buried and as we unearthed it, it got longer and longer. We were able to get as much as we could, then we had to cut it in order to move it. It is at least four inches thick and we estimate it weighs approximately 300lbs."
Student Quincy Gordon said: "This is my last year at LIS but I have been participating in this clean-up with Ms Woon for the past three years and hope to continue if possible in years to come."
Students participating from LIS included: Matthew Lowe, Tamia Grey, Gerardo Cabasaa, Quincy Gordon, Jeremiah Jarret, Tom Paine, Devon Lubin, Nick Hulme, Nicolas Rulli, Jimmy Pierson, Alejandro Cabassa, Chris Paul, Nichana Miller, Adjohnae Wildgoose, Timothy Newbold, Ure Saunders, Uri Williams, Kariel Stuart, Brickelle Sands, Tyler Davenport, Arekha Hall, Arzah Laing, Isabelle Law, Megan Roos, Abigail Lowery (six-years-old), Zariah Knowles and Annabelle Purvis. Michael Lowery, head of high school at LIS, coordinated the group.
Earthcare volunteers Havana Gibson, Savanna Gibson, Candice Woon, Tyrie Moss and Michael Marshall also assisted.