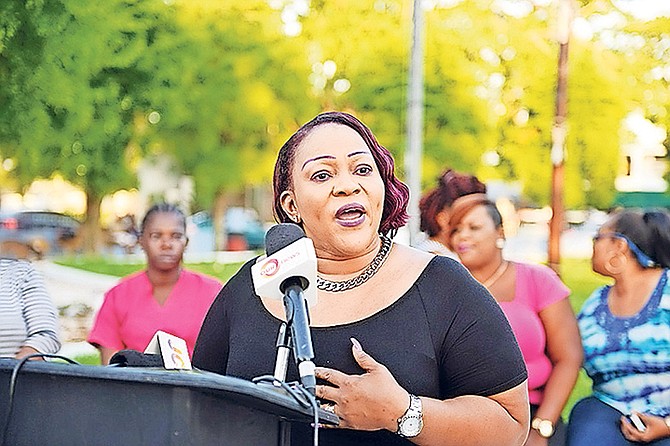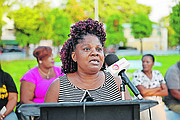 By RASHAD ROLLE
Tribune Staff Reporter
rrolle@tribunemedia.net
WHEN gunshots go off in Fox Hill, as they do almost every night according to residents there, Lavern McPhee Gray's heart flops.
In those moments, she remembers her 18-year-old son Jarvis Roker who was killed in January.
"I left my son home sleeping in his bed when I went to go away," she recalled yesterday at a meeting in the Fox Hill community, remembering the unforgettable emotion she felt packing her bag during a Fort Lauderdale trip when she learned her child was shot.
She said her deceased son was affectionate, the kind who would hug her when she was down, kiss her on the cheek and tell her he loved her.
"My oldest son is 30," she said. "When I hear the gun shots, I'm calling, wondering where he is."
After the recent deaths of 17-year-old Mitchell Munroe and 16-year-old Jeffrey Wright, both Fox Hill residents, Mrs Gray appeared at an event with several other residents yesterday to call for more effort - more from parents, more from the government and more from police.
"More effort," she said, to bring an end to the "senseless killings."
The event at Fox Hill Park was partly organised by the community's former MP, Senator Fred Mitchell, who since his loss in the May 10 general election has frequently sounded the alarm over what he calls the community's deteriorating security condition.
Munroe, the most recent murder victim, died at a time when he was trying to turn his life around, his aunt Bridgette Neely said yesterday.
"He was trying to get his self back together, but it seems if you trying to get yourself on track and you don't do what the guys think you should do, that they set a hit out for you, that you can't get away from the pressure," she said.
"I'm appealing to the powers that be to please come in Fox Hill to render some assistance for this situation. We want the government to do what it can to help us."
To the residents yesterday, the government has been lacking solutions and the police force does not have a large enough presence in their area.
"You can't just come around in response to a murder," Mrs Gray said.
For politicians, however, solving the country's violent crime problem has proven to be the hardest of challenges.
Like his predecessors Tommy Turnquest and the late Dr Bernard Nottage, National Security Minister Marvin Dames has faced pressure to "fix" the crime problem. A former deputy commissioner of police admired by his former peers for his work ethic, he was touted by the Free National Movement (FNM) as the ideal man for his job. Mr Mitchell slammed him yesterday for his "silence" on crime matters compared to his outspokenness prior to the May election.
Mr Mitchell also highlighted Police Commissioner Ellison Greenslade's absence from the national scene even as the murder rate outpaces last year's rate by as much as 40 per cent.
The Tribune has previously reported the Minnis administration wants to remove Commissioner Greenslade from his post.
Legal experts say the Constitution prohibits any administration from forcing a commissioner out without cause. Although Commissioner Greenslade was said to be heading to London for a high commissioner post, he and government officials have been tightlipped about his future.
Meanwhile, at least seven people have been killed in Fox Hill so far this year. At least five were killed last year, according to The Tribune's records.
In one of the historic community's darkest moments, four were killed in a drive by shooting in Fox Hill in late 2013. Several others were injured at the time.