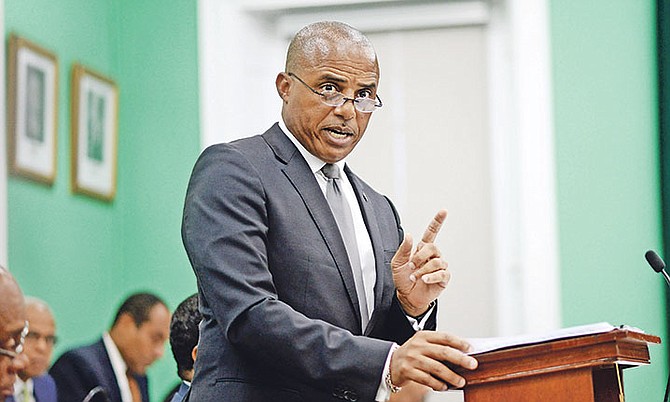 By KHRISNA RUSSELL
Deputy Chief Reporter
krussell@tribunemedia.net
MINISTER of National Security Marvin Dames yesterday outlined the chronic challenges the country faces in its fight against crime, while noting murders are up 41 per cent compared to this time last year, but overall crime is down by 19 per cent.
He said the crime problems are worsened by an ineffective electronic monitoring system where 13 people with ankle bracelets have been murdered and another wearing a device was recently charged with a killing.
The minister said latest crime figures show 268 offenders are being monitored. This includes 70 for murder, 18 for attempted murder, 102 for armed robberies and 59 for firearm offences.
He told Parliament yesterday The Bahamas is probably the only country placing ankle monitoring bracelets on offenders charged with murder and other serious crimes, while not ensuring strict guidelines are enforced.
Also contributing to challenges with serious crimes is the failing CCTV Monitoring Centre. In 2012, the government of The Bahamas spent $4.6m to establish a state of the art centre and installed 243 CCTV cameras mainly to the downtown Nassau areas and other crime hotspots throughout the island.
However, Mr Dames said the system, one of the most vital in the fight against crime, was not being properly maintained and could not be expanded due to insufficient bandwidth, which is essential for producing quality images. This impacted nearly half or 119 of the 243 cameras. In addition, hard drives and servers were not upgraded and staffing issues at the CCTV centre were far from adequate, he said.
The ineffectiveness of both crime-fighting tools has contributed to the nation's overall crime picture, Mr Dames suggested.
Recent crime statistics, when compared with the same period last year further show murders are up by 41 per cent with 103 incidents up to press time. Attempted murder is down by 20 per cent compared to last year this time, with 12 incidents thus far and manslaughter had one incident.
In addition, rape is down by 15 per cent with 45 incidents, attempted rape increased 88 per cent, unlawful sexual intercourse is down 25 per cent, armed robbery is down by 35 per cent with 380 incidents, robbery down by 44 per cent and attempted robbery is up 17 per cent.
Burglaries are down 25 per cent, housebreaking down eight per cent, shop breaking down four per cent, stealing down 13 per cent, stealing from vehicles down 24 per cent and stolen vehicles are down 33 per cent.
Overall crime figures to date when compared to the same period last year are down 19 per cent, Mr Dames said.
He said: "Our government will be tough on crime, tough on the causes of crime and tough on criminals. We have made it clear that those who commit crimes will be punished for their actions. We have a zero-tolerance approach to criminal offenders.
"Permit me to share with you a sobering example of why the criminals feel so emboldened. Just over a week ago police officers attempted to stop a suspicious vehicle with two male occupants. After a short chase, the car came to a stop and the suspects were searched. One of the males had a .45 pistol in his pants with 10 live rounds of ammunition. When officers ran a background check on the suspect, he was on bail for two counts of murder and three counts of attempted murder. He was also being electronically monitored."
He also told the House: "It cannot be that we should have persons being granted bail and freely roaming our streets while armed, facing multiple charges. My ministry has been in active discussions with the Office of the Attorney General to explore avenues to ensure that persons charged with multiple similar offences committed over time, remain incarcerated up to the time of their trial without bail."
Mr Dames said the government is now in the initial phases of its crime fighting strategy.
These include conducting a manpower audit of the Royal Bahamas Police Force, a zero-tolerance approach to crime, increased police visibility, targeting of hotspots and a focus on prolific offenders.
Other strategies include strengthening of police and community partnerships, and the establishment of a guns and gangs unit, which was formed Tuesday.
The government also proposes to enact legislation "very shortly" to address the conditional release of offenders into society through a parole and probation system for first time and non-violent offenders. This new process of parole will address rehabilitation, reintegration, re-offending/recidivism and reduce costs associated with incarceration.