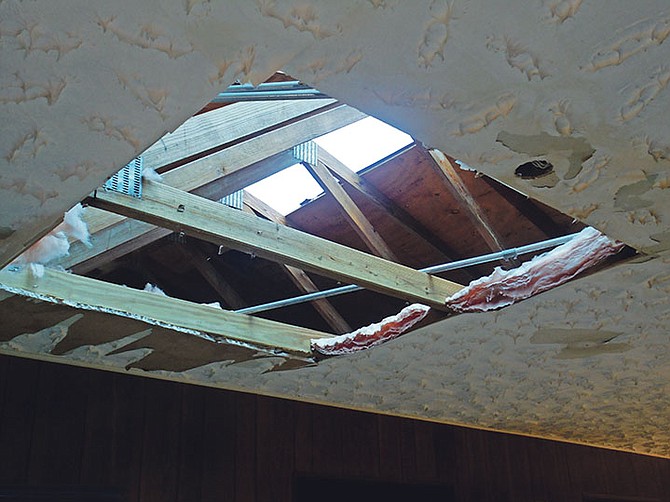 By DENISE MAYCOCK
Tribune Freeport Reporter
dmaycock@tribunemedia.net
A FREEPORT property owner and former developer has described the tornado damage at the Imperial Gardens Apartment complex and at the Imperial Park Subdivision as a "horrible" incident.
Glen Berkley Smith, the owner of the 36-unit apartment complex on East Atlantic Drive, said the building suffered significant roof damage in the office, and seven units were destroyed.
He was pleased there were no serious injuries to anyone and is now focusing on rebuilding what was torn apart in a matter of seconds before his eyes.
Mr Smith said the building was not insured because he could no longer afford to pay the high annual insurance premium.
"We had no insurance, that was the worst part of it," he said. "Things were so bad in Freeport for the last five or six years you can hardly afford insurance."
He estimates that it would cost somewhere around $11,000 annually, with a two per cent deductible.
Some homeowners who sustained severe damage at the Imperial Park Subdivision also did not have insurance.
During the passage of Hurricane Irma, Grand Bahama experienced tornadic activity on September 10. The tornado ripped off roofs and took down poles and power lines. Several businesses in Freeport were also damaged.


Mr Smith said he had just finished watching the church service of St Barnabas Church when he heard a loud noise.
"I had gotten through watching it, and I was saying that's a wonderful sermon, and then all of a sudden we heard this noise.
"It sounded like a tractor was coming from somewhere or a train, and all of sudden it hit the windows and everything went out," he said.
Mr Smith said that it all happened in a matter of seconds. Portions of the roof had gone, and windows were blown out across the street.
"A lot of tenants were in the yard making noise, and when I went to find out what was going on, I noticed that my storage shed was at the door; it was so horrible," he recalled.
"I came out and saw the upstairs part of the roof was gone from over us," Mr Smith said. "The tenant is moving out today because we have to get that top floor repaired."
In the office space, there was roof and ceiling damage, and three windows to the front upstairs had been blown out.

Mr Smith later learned that the tornado had also destroyed several homes in Imperial Park.
"That is my subdivision; they told me one or two roofs had gone, and that was devastating to me because I did those homes and I like (the subdivision)," he said.
Although the apartment complex was built in 1982, it had withstood past hurricanes.
While the island was spared a direct hit, tornadic activity was to blame for the destruction of homes and businesses.


The property owner said rebuilding would take some time.
"Of the 36 units here, about seven were damaged, so that's not too bad," Mr Smith said.


"Other than that, the wonderful thing is that no one was injured to the point where they were disabled - I think that is great," he said.
Prime Minister Dr Hubert Minnis and his delegation travelled to Grand Bahama last Thursday and went to the apartment complex and the Imperial Park Subdivision to assess the damage.
He was concerned over the lack of enforcement of proper building codes in the construction of houses that were severely damaged.
Dr Minnis noted that hurricane straps in the damaged homes had not been properly installed, and also observed issues with the trusses.
On Grand Bahama, some 28 families and ten businesses have been affected.