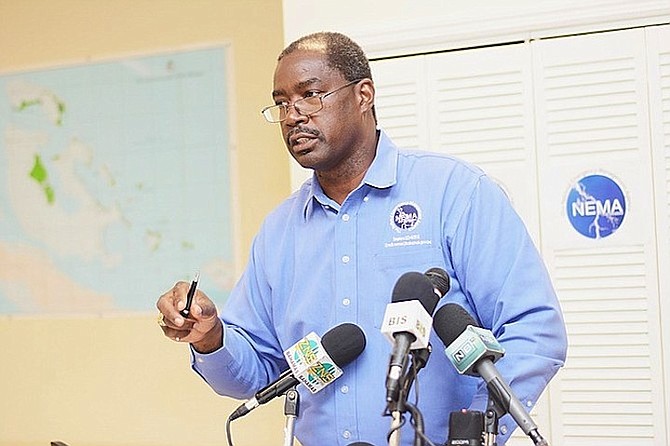 By RASHAD ROLLE
Tribune Staff Reporter
rrolle@tribunemedia.net
HALF-a-million dollars have been spent on evacuation and repatriation exercises so far this hurricane season, National Emergency Management Agency head Captain Stephen Russell said Friday.
"We may have conducted some 23 flight commissions, bringing people out (of their islands) and returning them. (That's cost us) just over half a million so far."
Overall, about 1400 people have been evacuated by the government, and about 1000 of them have been repatriated by the government to their island. Some used their own expenses to return to their home.
About 85 people, all but two from Acklins, remain at the Kendal G Isaacs Gymnasium at the expense of the government. They have been reluctant to return to their island out of concern that it is not yet livable.
Following the passage of Hurricane Maria, which may not pose a significant threat to the Bahamas as it is forecast to move east of the country, the government will transport those remaining evacuees to their island.
The government has said restoration efforts following Hurricane Irma will cost the country "tens of millions." Captain Russell said restoration efforts that involve rebuilding people's homes is unsustainable, and it may be time to find a new formula.
"Over the past three consecutive years we've had three major hurricanes (and) it's costly," he said. "Is it sustainable for the government after every hurricane to dish out funds for reconstruction? It's a very expensive operation. I think the Bahamas is one of the only countries in the Caribbean jurisdiction that really reconstructs houses for persons. It's not sustainable every year to rebuild homes for people whose homes were destroyed. We have to look at some other formula to provide assistance. A one bedroom house is $71,000. A three-bedroom house can go up to almost $115,000. If you have to rebuild over 100 homes in any island that's almost $10 million. It's a cycle."
As assessments of the cost-burden of this hurricane season continue, forecasters stress that the country is not out of the woods yet. The hurricane season will continue for at least another two months. And Hurricane Maria "is a dangerous hurricane," Chief Meteorologist Arnold King said, telling residents in the southeast Bahamas: "Be prepared."